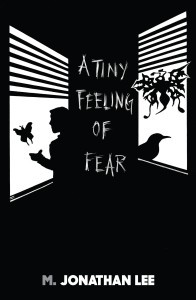 "I've made a decision to become the only person on the planet to become completely truthful about everything. I've never told anyone my secrets before. I'm hoping that being honest with you may just save my life. And perhaps yours."

This third novel by Jonathan Lee takes the reader through the many insecurities we all experience, through the eyes of Andrew Walker, an ordinary guy with an extraordinary twist to the tale. Jonathan is working closely with MIND and Rethink mental health charities to raise awareness of mental health issues.
Thanks to Publishing Push and the author for gifting me this review copy!
I wasn't sure what to expect from this book, as the blurb talks about mental health. Was this going to be the crazy ramblings of a manic depressive, or a thinly disguised dream sequence passed off as real life until the very end?
It's neither. A TINY FEELING OF FEAR is a wonderfully down to earth, no holds barred tale of a man who is suffering from depression. It's also something more—a story with a crazy, jaw dropping twist that no one could EVER see coming, not in a million years. The plot kept me interested, and I so appreciated the author's wry humor, especially when describing Walker's coworkers. After spending time with his office mates, it's no wonder he was depressed. Hostility and impotence hang over everyone's head like a miasma, with Andrew Walker at the center. The author's recounting of a nasty, demanding customer is spot on and cringingly accurate. Anyone who has ever worked in client services will have flashbacks, especially when an angry customer is abusing Walker and we are privy to his mental dialogue. Those are the bright spots. Interspersed with these moments are Walker at his darkest, when he is having such a bad day he can't even get out of bed and is contemplating suicide. His anxiety and how it affects him is recounted in excruciatingly correct detail; anyone who has suffered from this all too prevalent malady will be intimately familiar with the pounding heart, crushing doubt, and sense of failure. A simple trip to the supermarket nearly turns into a disaster, as Walker almost loses his grip on reality as he travels up and down the aisles.
The one bright spot in his life is his next door neighbor, newly moved in and with issues of her own. The two form an oddly awkward yet comforting relationship, and she helps Walker come to grips with a personal decision that is a long time coming. Some details about his life are revealed very slowly, and I got the sense that even though he was keen enough to make others familiar with the anxiety, I was not permitted to gain very much insight into the man that Walker was. Often the character says that he is worthless, ordinary, and uninteresting, which is normal for someone with depression. Over time, we learn exactly what happened to bring about this life change.
As Walker leaves for a business trip, a few plot lines are near to becoming resolved. I felt so bad for the character and wondered what would be happening–would the author create a happy ending or would there be more misery? Depression and anxiety are not always "fixed", and I was curious to see how things would turn out. After all, the blurb says that the character is being honest, and this may just save a life.
In any case, no matter what scenario you may have built up in your mind will not prepare you for how things end. Anyone who says they saw this coming is either lying or crazy–or both. I felt exhilarated and manipulated all at the same time, and there were times where I wasn't sure what just happened. Jonathan Lee is crazy talented and crafty as hell to have pulled this off, that is about all I can say without spoiling the surprise. He has managed to create a book that will spark dialogue about mental illness while entertaining the reader and making their mind boggle. Quite impressive.
Want your own copy? You can pick it up [easyazon_link identifier="B015OQN4ES" locale="US" nw="y" tag="gimmethatbook-20″]here[/easyazon_link].