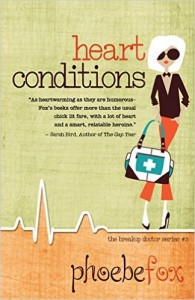 Running a massively successful relationship counseling practice should guarantee smooth sailing in a girl's own love life…

Breakup Doctor Brook Ogden has spent the last year sifting through the fallout from the disastrous decision that led to her unconscious uncoupling with boyfriend Ben Garrett. Despite advising her clients you can't be friends with an ex, she and Ben have somehow begun to stitch together a friendship—one Brook hopes is slowly turning into more. That is, until Ben introduces his new girlfriend, Perfect Pamela, a paragon of womanly virtues who is everything Brook is not.

While Brook navigates her newly volatile emotional life, an unwelcome surprise shows up on her doorstep: the ex-fiancé who broke her heart two years ago—one month before their wedding. Between her ex's desire to rekindle their attachment, her best friend Sasha's unexpected crisis, and her own unsquelchable feelings for Ben, Brook finds herself questioning the personal progress she's made in the last two years—and threatened with the highest-stakes Breakup Doctor failures she's ever faced.
Thanks to the author, Henery Press and NetGalley for offering me this review copy!
HEART CONDITIONS is the 3rd book in the Breakup Doctor series. Each book can be read as a standalone or in order, so I had no trepidation about reading this one as a single.
The Breakup Doctor is a relationship therapist who is having a hard time taking her own advice when it comes to her ex boyfriends. She still has feelings for one, and the other, who broke her heart, still has feelings for her. So there is a very tame triangle going on here, which should delight chick lit lovers everywhere.
In fact, this book is like a "how to" of chick lit: there is a strong yet vulnerable heroine, plus darkly handsome (and sometimes reticent) ex boyfriends, a best friend with a personal crisis, and drama on the job front. So many things to resolve before the book ends, plus gorgeous descriptions of clothing, clubs, and restaurants!
Brook is a likeable character, quick to solve other's problems but totally unsure what to do with her personal life. She learns a startling truth about herself in the latter half of the book, thereby creating an explanation for some of her strange antics, such as bringing her pregnant friend to a BDSM club simply to get the pregnant one "more comfortable" dealing with babies. (The club caters to all sorts of BDSM situations, and there were people whose fetish was dressing up as a baby – diaper and all.) There is no explicit sex in the book, which was enjoyable. Some writers feel they have to insert a sex scene here and there to offset the saccharine romance, but if the romance is done right, as in HEART CONDITIONS, you don't need sweaty gropes and moans.
The romantic tension was spot on, as Brook struggled to cope with her ex and his new girlfriend, who has looks, brains, and poise. Her internal monologues described exactly what every woman has gone through when encountering a still-fresh wound. Brook's problems are real and eminently solvable, yet the answers don't come easy. She must do some soul searching to discover what she wants, and most importantly, why.
This book was a pleasant and sometimes funny read. The chemistry between Brook and Sasha was authentic, even if Brook was occasionally not on the same page as her BFF. Almost all the problems were solved by the end of the book, plus new things are on the horizon for our Breakup Doctor that should prove to be interesting. Fans of author Phoebe Fox will be anxiously awaiting the next book in the series.
Want your own copy? You can pick it up [easyazon_link identifier="B017WNIUI6″ locale="US" nw="y" tag="gimmethatbook-20″]here[/easyazon_link].