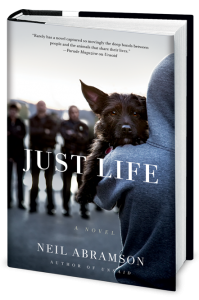 Veterinarian Samantha Lewis and her team are dedicated to providing a sanctuary for unwanted, abused, and abandoned dogs in New York City. But every day it gets harder to operate her no-kill shelter. Sam is already at her breaking point when she learns of an unidentified, dangerous virus spreading through their neighborhood. The medical community can only determine that animals are the carriers. Amid growing panic and a demand for immediate answers, suspicion abruptly falls on dogs as the source. Soon the governor is calling in the National Guard to enforce a quarantine—no dog may leave the area.

Samantha knows from her own painful history that, despite the lack of real evidence against the dogs, a quarantine may only be the beginning. As questions about the source of the virus mount and clash with the pressure for a politically expedient resolution, Sam is forced to make life-altering choices. She finds allies in a motley crew of New Yorkers — a local priest, a troubled teen, a smart-mouthed former psychologist, and a cop desperate to do the right thing — all looking for sanctuary from their own personal demons. But the person Sam needs the most to unravel the mystery of the virus and save the dogs is the last one she'd ever want to call on—because contacting him will mean confronting the traumatic past she has fought so hard to escape.
Thanks to the author and publisher for providing this review copy.
Imagine a neighborhood in Manhattan in the grips of panic over a virus – one that is killing children and could possibly be spread by dogs. Imagine a shelter vet pushed to her breaking point by lack of money and no lack of politics. Add in a priest who may be losing his faith, an orphaned teen, and a few stray dogs who need homes.
Put yourself in the shoes of the veterinarian, who deeply loves her faltering shelter and all the dogs who call it home. Feel the only emotions that seem to be present in the first half of the book: incredible sadness, defeat, and frustration. Think about the sources of help available to you: none. At least none you can trust.
Welcome to JUST LIFE.
Not a happy, comfortable read, for sure. It is, however, a thought provoking and emotional story about making choices, standing up for what you believe in, letting go of your personal demons, and learning to trust.
Each character is deeply flawed but holds a spark inside them: the priest who throws a rock through his own church window because he is feeling distant from his Savior; the teen who was abused in foster homes and who is determined to save all the dogs at risk, no matter what; the assistant deputy mayor who is practicing good politics by shutting down the shelter.  The sun in their world is Sam, the veterinarian who gives everything she has to the stray dogs, her only family.
As the virus swirls around the neighborhood the tension ratchets up, and Sam is forced to make hard choices to save the dogs. Who will back her up?
My attention was held during the entire reading of this book. The veterinary medicine is correct, and the possibility of a bird flu – like virus (but with deadlier complications) was plausible. Each character's story is revealed bit by bit, and sometimes they are sympathetic, sometimes not.
The character of Beth Cohen provides much needed comic relief during many dark times. She is a disgraced psychologist forced to either submit to a jail sentence or "volunteer" at the shelter. She asks probing questions, making Sam confront her fears and doubts. As I mentioned, she is also sarcastic and self effacing, adding a lighter touch here and there.
Gabriel, the priest, provides one of the most human touches in JUST LIFE. He is suffering from dementia, and his portrayal is poignant and heartbreaking. His backstory is the platonic love he held for his best friend and confidant Channa, who died recently. He wonders if he will be able to remember her, and the emotions she stirred in him. He questions his God, in a crisis of faith that pervades the entire book until the end. The scene with him in chapter 35 made my heart well up, and brought tears to my eyes. Well done, Mr Abramson.
JUST LIFE is a tightly woven story that will not leave you easily. It is not a story with a bright shiny ending, nor is it a depressing tale of failure. It is a tour de force of the human condition and the bond we share with our animal friends; and the lengths we will go to in order to protect them.
You can get your copy [easyazon_link identifier="1455591041″ locale="US" nw="y" tag="gimmethatbook-20″]here[/easyazon_link].