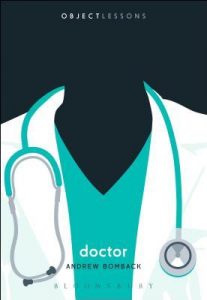 A 3-year-old asks her physician father about his job, and his inability to provide a succinct and accurate answer inspires a critical look at the profession of modern medicine.

In sorting through how patients, insurance companies, advertising agencies, filmmakers, and comedians misconstrue a doctor's role, Andrew Bomback, M.D., realizes that even doctors struggle to define their profession. As the author attempts to unravel how much of doctoring is role-playing, artifice, and bluffing, he examines the career of his father, a legendary pediatrician on the verge of retirement, and the health of his infant son, who is suffering from a vague assortment of gastrointestinal symptoms.
At turns serious, comedic, analytical, and confessional, Doctor offers an unflinching look at what it means to be a physician today.
Many thanks to NetGalley for this ARC in exchange for a review!
DOCTOR is a book where I expected more than it delivered. Yes, I got insights on a doctor's fears, and learned what they may think of "doctor" jokes, but all in all I felt that there was too much about his family to truly make it a book about a physician. I got the impression that he didn't enjoy being a doctor at all, and that he was living in the shadow of his father, who was extremely well respected in the field.
The Spanglish conversations with his daughter detracted from the pace of the book, and I can imagine those unable to understand the words becoming frustrated. (Spoiler: don't worry, you didn't miss anything integral to the plot.) I also felt disconcerted as the author jumped from story to story; sometimes they tied in with one another, sometimes the transition was harsh.
The plot seemed to be about the personal life of a man who happened to be a doctor, not truly all about what a doctor does. If the author could make up his mind and concentrate on one or the other, I feel the book could have been more meaningful. Perhaps a different title would have steered a potential reader in the right direction as well. In any case, it wasn't the worst book I ever read in this genre – but far from the best. I think if it was any lengthier it would have been a rare DNF for me.
Interested in checking it out for yourself? You can pick up it on Amazon.