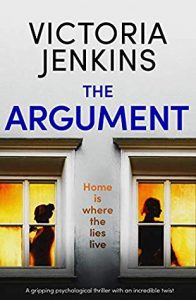 It happens to every mother. One day, the daughter whose whole world you once were, becomes someone you barely know. And you don't know the secrets she's hiding…

One hot summer night, 15-year-old Olivia comes home late from a party she was strictly forbidden from going to, and she and her mother, Hannah, start arguing. Soon Olivia speaks the words that every parent has heard from their teenage child:

'I hate you. You've ruined my life. And I'm never speaking to you again.'

Olivia has never been an easy child, a sharp contrast to her easy-going, happy-go-lucky little sister. But Hannah thinks Olivia's outburst is the end of a normal family argument. In fact, it's only the beginning of a nightmare…

After one day of silence, Hannah thinks Olivia is taking a teenage sulk too far. After two days, she starts to feel anxious that something more serious could be going on. After a week, when her daughter still hasn't spoken, Hannah knows that Olivia is hiding a bigger darkness – something that could threaten to tear their precious family apart…

The Argument is an unputdownable psychological thriller that asks how far we can push our families before they finally break. Perfect for fans of Gillian Flynn, The Woman in the Window, and The Silent Patient.
Thanks to NetGalley for this reviewer's copy!
The premise of THE ARGUMENT is simple – teenage girl goes out to a party, parents disapprove, teenager tells parents she hates them and refuses to talk to them any more. If it only were that innocent!
Hannah is the stodgy, no-fun mother of Olivia and Rosie. Olivia is a normal 15-year-old testing the boundaries of parental control. Rosie is still young and is the favored child, much to Olivia's chagrin. Everyone appears to be a reliable narrator so far, despite the titular argument.  The book flows along with minimal ups and downs until about 60% gone – then the first twist is uncovered and Hannah becomes a sympathetic character while Olivia becomes a selfish, annoying little girl, still believing that if her parents didn't treat her the way they did, she would not have had to sneak out to that party. Soon after that, the second twist happens – hold onto your book, because it's a doozy! My sympathies changed ever so slightly towards Olivia at this point, despite the fact that she was still a selfish teenager. At this point, I was not putting the book down until it was finished; it was that good! Then the author drops another twist into the mix, making Hannah even more sympathetic.
Hold those emotions close, though, as from here on in they will be changing and spinning out of control. By the end of the book every character but one is deserving of pity, more or less. Each character (except Rosie, who is quite the innocent throughout) has their demons and their false beliefs. One is a narcissist, another is a control freak, and the other is selfish. Actually, they are all selfish and broken in their own way.
THE ARGUMENT is an unputdownable psychological thriller that starts slow, but ends with multiple jaw-dropping twists. The author is adept at creating simmering tension that boils over midway through the book – and the ending will have you shaking your head at Hannah's final words. I look forward to reading more of the author's work. You can pick up your copy here.