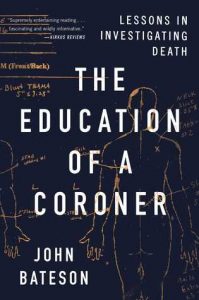 In the vein of Dr. Judy Melinek's Working Stiff, an account of the hair-raising and heartbreaking cases handled by the coroner of Marin County, California throughout his four decades on the job—from high-profile deaths to serial killers, to Golden Gate Bridge suicides.
Marin County, California is a study in contradictions. Its natural beauty attracts thousands of visitors every year, yet the county also is home to San Quentin Prison, one of the oldest and largest penitentiaries in the country. Marin ranks in the top one percent of counties nationwide in terms of affluence and overall health, yet it is far above the norm in drug overdoses and alcoholism, and comprises a large percentage of suicides from the Golden Gate Bridge.
Ken Holmes worked in the Marin County Coroner's Office for thirty-six years, starting as a death investigator and ending as the three-term, elected coroner. As he grew into the job—which is different from what is depicted on television—Holmes learned a variety of skills, from finding hidden clues at death scenes, interviewing witnesses effectively, managing bystanders and reporters, preparing testimony for court to notifying families of a death with sensitivity and compassion. He also learned about different kinds of firearms, all types of drugs—prescription and illegal—and about certain unexpected and potentially fatal phenomena such as autoeroticism.

Complete with poignant anecdotes, The Education of a Coroner provides a firsthand and fascinating glimpse into the daily life of a public servant whose work is dark and mysterious yet necessary for society to function.
Thanks to NetGalley for this ARC!
Fans of true crime will love this book. Coroner Ken Holmes' cases are described in great, gory detail, along with his thought process for cause of death. Some go unsolved, but all of them are a part of him.
Holmes is a self-deprecating man, which helped him move up the ladder within his department. As each case unfolds, the author portrays him with the right amount of confidence and respect. Some cases are more convoluted than others, so I am not sure who is at fault when the particulars get confusing. There were times where I had to read over the cast of characters a few times in order to determine who killed who, who had the motive, and other items of note. That is really the only caveat I have about this book – otherwise it's an enjoyable, if dark, read. There are plenty of cases to appeal to everyone's interest, whether it be prurient or otherwise. Holmes has an outstanding memory and usually has a philosophical turn when sharing his stories.
I got the impression that he is proud of his work, pays great attention to detail, and truly cares about those affected by the victim's death. He emphasizes personal contact and shows empathy to those left behind.
Any book that teaches me something is a gem. In reading THE EDUCATION OF A CORONER I learned about rigor mortis (starts at the jaw, which is the strongest muscle in the body), suicide (apparently the Golden Gate Bridge was a mecca for those seeking to shuffle off this mortal coil) and government (how to work your way up through the ranks).
This was an excellent departure for the norm for me, and a thoroughly wonderful experience. If you have an interest in true crime or want to know what really happens during an investigation, pick this up. You won't be sorry.
You can grab your copy [easyazon_link identifier="1501168223″ locale="US" nw="y" tag="gimmethatbook-20″]here[/easyazon_link].