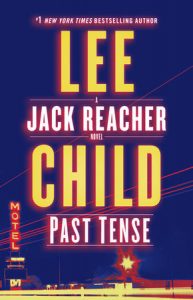 Family secrets come back to haunt Jack Reacher in this electrifying thriller from #1 New York Times bestselling author Lee Child, "a superb craftsman of suspense" (Entertainment Weekly). Reacher, the eternal drifter, happens by chance on the small New Hampshire town he remembers his father was supposed to have come from. But when he starts looking for his dad's old home, he finds there's no record of anyone named Reacher ever having lived there.
Thanks to Goodreads for the ARC! This latest outing for Reacher is unputdownable.
This is the first Jack Reacher book in a while that I literally could not stop reading. Our hero is caught up in a small town in New Hampshire attempting to find out information about his father and family tree, and as usual, trouble follows him. There is also a converging plotline about two travelers with a mysterious suitcase. Their car dies and they check into a motel of dubious origin. The author doles out tidbits of information on these people in a way that kept me hooked. Consider eating a single M&M or potato chip….then having to wait for another one. This is exactly how I felt – I was so eager to find out what happened to the couple, what was really going on in that motel, and WHAT THE HELL was in that suitcase!!
In the meantime, Reacher is doing his thing, making friends and enemies along the way. There are some wonderful punch-ups and delicious retribution that will gladden the heart of every Reacher fan. We learn more about Reacher's family (his father in particular) and the town he grew up in. The description of the town was amazing, as I enjoy urban exploring and wanted to go there right away to walk around this abandoned place. However, the information about Reacher's dad was probably the weakest part of the plot for me. I may have been expecting more detail or a plot twist, but was satisfied enough with what I got. Minor complaints about a nearly perfect book. It was also refreshing to not have Jack caught up in a passionate but short hookup with one of the available women in town. Sometimes that detracts from the action.
As I said before, this is a nearly perfect book and would work well as a stand-alone for those who have not read this series before. I'm very grateful to the publisher for offering this as a giveaway.
Want your own copy? You can pick it up here.