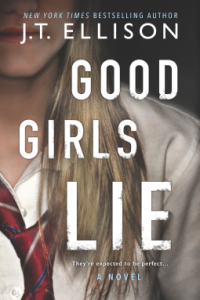 Perched atop a hill in the tiny town of Marchburg, Virginia, The Goode School is a prestigious prep school known as a Silent Ivy. The boarding school of choice for daughters of the rich and influential, it accepts only the best and the brightest. Its elite status, long-held traditions and honor code are ideal for preparing exceptional young women for brilliant futures at Ivy League universities and beyond. But a stranger has come to Goode, and this ivy has turned poisonous.

In a world where appearances are everything, as long as students pretend to follow the rules, no one questions the cruelties of the secret societies or the dubious behavior of the privileged young women who expect to get away with murder. But when a popular student is found dead, the truth cannot be ignored. Rumors suggest she was struggling with a secret that drove her to suicide.

But look closely…because there are truths and there are lies, and then there is everything that really happened.
Thanks to NetGalley for this ARC!
This book was a conundrum. On one hand, the setting was full of promise: a Gothic prep school filled with overachieving rich girls. On the other hand, we have lots of internal dialogue and chapters that switch POV's rapidly, causing confusion. There was also a slow start to the book, and it seemed to drag on towards the middle. This was almost a DNF for me, but I kept going.
The last 20% of the book is filled with rapid-fire twists and turns, and all the questions (and there are plenty!) are answered. There are some (more) deaths but I felt the conclusion was satisfactorily drawn. Ellison's characters are typical boarding-school-with-money types, and there are a lot of familiar tropes (secret societies, girl drama, rich girls behaving badly) that will warm the heart of the reader that loves this type of thing.
I am unsure how to classify this book – is it YA or not? I feel it fits either category; the writing style is easy to read, if a little drawn out. I think each chapter would have benefitted from naming the narrator right at the beginning so the reader would immediately know who is speaking. However, this may have been done deliberately by the author to cause confusion and increase the intrigue.
My favorite character was Becca – she was an apt Head Girl, hiding her loneliness under a harsh and demanding exterior. I also felt sorry for the Dean, who was constantly under the thumb of the previous Dean (who just happened to be her manipulative mother).
All in all – an uneven but mildly pleasant read. Stick with it through the slow portions and you will be happy you did. You can pick up your copy here.