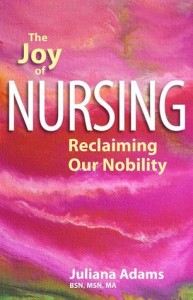 Juliana Adams has lived her dream of being a nurse for 50 years. Her stories are stunning and startling; raw and revealing; heart wrenching and heart soaring. In her eye-opening experiences, she provides a deeper perspective … to always look beyond the diagnosis … because every nurse is more than just a nurse!
The Joy of Nursing: Reclaiming Our Nobility is provocative and riveting as the stories from new nurse to intuitive experienced nurse unfold. Far more than a memoir, it is a rich journey from novice to expert, a concept with historical roots for all who enter this profession.
-Are you a nurse or exploring nursing as a career?
-Are you wondering what is true about being a nurse?
-Does your nursing reality match the dream you once envisioned?

With courage, insight and optimism, Juliana Adams reveals the challenges and barriers that face the profession. To be a nurse is an honor.
She shares stories, her insights, and her dedication to nursing are exactly what the overwhelmed, disillusioned, innocent and anyone entering nursing needs.
Many thanks to the author and JKS Communications for gifting me this book for review!
Nursing is not an easy job – there is heartbreak, stress, and backbreaking work involved. THE JOY OF NURSING illustrates all that, but with an undertone of hope, pride, and strength.
To have a career that spans 50 years is impressing and daunting in itself, never mind having to deal with human suffering for all that time. Imagine the innovations that one would see, watching the field grow and develop! Adams starts with  the beginning of nursing, as created by Florence Nightingale, and discusses how doctors would view these eager young women entering the field. She then ties that in with her own nascent desire to become a nurse, and describes her journey.
Patient care itself has not changed since the first nurse started doing her job; rather, it is the albatross of Health Insurance that has skewed how hospitals are run. The objectives are still the same; ease pain and suffering, provide a friendly face to those who worry about their loved ones, and advocate for those who have no voice.
Adams does all of these things and more – and tells how she tries to find joy in each day. One story that touched me a great deal was the gently used clothing bin she and other nurses created; for indigent patients whose clothing was soiled due to illness, or for those who simply didn't have another change of clothes available. What a thoughtful thing to do – provide a basic human need at a time when it is needed the most.
As you read through this book, you will see that Adams is intent on keeping nurses in love with their job, by sharing her own struggles and solutions. Words of advice can be found on almost every page, with scenarios that show how Adams grew within her profession and how she overcame her own disillusionment. She is honest and open about her own strengths and weaknesses while telling us the lessons she has learned over the years.  It is easy to see how each of her patients has touched her as their lives intersected.
The underlying intent of THE JOY OF NURSING is obvious – Adams has done a wonderful job of sharing the love she has for her calling – and the message comes through loud and clear. The blurb notes that it is good for either new nursing graduates or for those who are feeling disillusioned.
We all need a bit of encouragement now and then; and this book will certainly provide that for nurses. Who will heal the healers? Adams understands that advice from someone who has "been there" is invaluable. She gives the field of nursing a valuable and necessary gift in this book.
Want your own copy? You can pick it up [easyazon_link identifier="0997200324″ locale="US" nw="y" tag="gimmethatbook-20″]here[/easyazon_link].