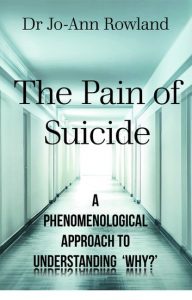 Every suicide is an individual tragedy whose origins challenge our mental capacity. Suicide is a global phenomenon. Each year there are over 800,000 reported suicides worldwide and that is expected to increase to over 1.5 million by 2020. More people attempt suicide than die from suicide. Family-member survivors and communities are left with many unanswered questions, not understanding why the person chose to commit suicide. Persons responding to suicide and suicide attempts are very often not prepared for what they encounter and this exacerbates the problem. This book looks at the struggles of a high-risk people group and presents interventions and postventions proffered in a consultation forum.
Thank you to Authoright for this ARC!
Dr Rowland's concern for those lost to suicide is evident in this well-researched book. She concentrates on the suicide rate in Guyana, South America, since this little country had the highest number of suicides in 2012 and 2014. Further into the book she examines some insights into the suicidal mind, the effect of religion on those who want to kill themselves, and a discussion of "psychache", the ongoing mental, emotional, and psychological emotions experienced by suicidal people.
Regarding Guyana, suicide has historically been a part of the Indian experience, with an average yearly number of about 123,000. There are various predisposing factors, such as culture and sociology, which the author explores further in other chapters.
Hopelessness and suicidal ideation are common threads amongst all races, with the thought being that counseling (both for the depressed person and bereavement) would be helpful. The stigma and grief are nearly unbearable, and the act should not be glamorized. Regarding this last statement, the World Health Organization created guidelines for media reporting of suicides such that a phenomenon called "suicide contagion" does not occur. These guidelines include not placing blame, calling the act "completed" rather than "successful", and highlight alternatives to suicide. These may appear obvious, but there are stories in the book where friends and relatives seemingly ignored or didn't understand multiple warning signs given off, and someone died as a result of this.
Dr Rowland's research was conducted through meetings with both relatives of, and survivors of, suicide attempts. Her goal was to determine why the suicide rate in Guyana was so high and to see if she could make a difference in this number. Transcripts of her meetings were also analyzed independently by two Guyanese, who applied both cultural and academic reason to their analysis. Intervention strategies were discussed by a panel of doctors and social workers after the research findings were examined. Some of these intervention strategies included community care groups, parenting/coping skills, school-based programs, and the establishment of drug courts. This last item is quite important, for pesticides and drugs are used as a method for suicide. Many Guyanese are farmers and have ready access to agricultural chemicals.
Reasons discovered for suicide included depression, substance abuse, and family dysfunction. Family conflicts arose out of cultural differences between children and parents, or marriages where the husband did not support his wife adequately. Guyanese families are structured around the patriarchal system, and "culture shock" can occur when mothers need to work to support the family and the children are left alone with no caregivers.
Suicide survivors expressed the pain of being misunderstood and unsupported by parents or family. There is also a stigma so forceful that one parent "self-discharged" her minor child, claiming the embarrassment of the attempt was too much for the family to bear.
The author concludes that lack of coping skills devalues the meaning of life, and drive these hurting individuals to seek "peace" via suicide. The reasons are the same no matter what country one is from, and there is heartache (or psychache) within every culture.
Dr Rowland has set up an organization in Guyana called Ephrathah, built specifically to engage those who are hurting. Counseling and persona development programs are offered to help reach those who are in despair, regardless of ethnicity or community status. I feel this organization will go a long way to help these vulnerable individuals.
I commend Dr Rowland for giving of her time and interest so freely. She is truly a caring soul who is seeking to mitigate suicidal ideation not only in Guyana, but all over the world. Her research can be translated into any culture in any country and needs to serve as a wakeup call to those who may have suicidal friends or relatives. Mental health can be a challenge at any age or stage, and we must all be willing to give that extra attention to someone who is depressed or hurting. That little bit may go a long way in saving a life. Please take the time to read this book and understand more about suicide. You can get your copy here.