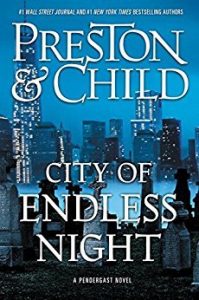 What begins as a manhunt for the missing daughter of a wealthy tech billionaire becomes something altogether different when the young woman's body is discovered in an abandoned warehouse in Kew Gardens, Queens, the head nowhere to be found. It appears there may be two killers on the loose–one responsible for the young woman's death, another responsible for the mutilation. A pair of such dastardly killers requires a team of equally talented investigators. Luckily, both Vincent D'Agosta and Special Agent Pendergast are back in town.
D'Agosta hopes that working a case back on his home turf for the first time in years will reinvigorate the FBI Special Agent and give him an opportunity to flex his investigative might. But neither is prepared to face a killer–or killers–as diabolical as this. It will take all of Pendergast and D'Agosta's intelligence and strength simply to match wits–let alone stay alive
Thanks to NetGalley for this ARC!
This installment fits firmly in the middle of the pack when it comes to enjoyment value. Pendergast is always wonderful to spend time with, but in this book he seems psychically disturbed somehow, not the invincible man we are familiar with. His conversations with D'Agosta are nebulous, even distant, and there is no chemistry between them. Perhaps this is what the authors intended to create, given the final chapter's activities. In any case, there are murders, bad guys, and beheadings, with plenty of gory details that Pendergast devotees are familiar with.
Some other reviews have stated that they could see the plot twists coming; I could not. Mostly I spent my time mentally urging the characters to make better choices and communicate more.
Some of the more enjoyable parts: having Pendergast battle things out in the abandoned mental hospital (I am an urban explorer and love hearing about places, even if I can only be there vicariously), and some of the dialogue is utterly delicious. Case in point – as Pendergast is trying to get into an office without an appointment:
"An appointment was merely a courtesy," he said, allowing a little iron to mingle with the butter. "As a special agent of the Federal Bureau of Investigation, looking into an active homicide, I go where I please, when I please, as long as I have reasonable suspicion to do so. Now, I suggest you speak to your minders and arrange an audience….without delay. Otherwise, there might be unpleasantness in store for each of you, personally."
This is the kind of dialogue I live for in a Pendergast book.  Often there are hidden gems like this, bright spots among dull moments in the plot. Perhaps these books are like pizza – as the saying goes: even if it's done bad, it's still good. Despite the characters not having chemistry, it was still great to spend time with them. Perhaps the next installment will show a happier Special Agent, given the plot twist at the end. I miss his smooth arrogance and confidence, and I'm sure you do too.
Summation: great characters behaving in ordinary ways. Pendergast is not shown in the strongest light, and there isn't any real furthering of the big picture. However, it's not the worst P&C book ever written. Let this book tide you over until the next one comes along.
Want your own copy? You can pick it up [easyazon_link identifier="1455536946″ locale="US" nw="y" tag="gimmethatbook-20″]here[/easyazon_link].