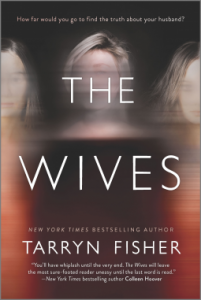 Imagine that your husband has two other wives.

You've never met the other wives. None of you know each other, and because of this unconventional arrangement, you can see your husband only one day a week. But you love him so much you don't care. Or at least that's what you've told yourself.
But one day, while you're doing laundry, you find a scrap of paper in his pocket—an appointment reminder for a woman named Hannah, and you just know it's another of the wives.
You thought you were fine with your arrangement, but you can't help yourself: you track her down, and, under false pretenses, you strike up a friendship. Hannah has no idea who you really are. Then, Hannah starts showing up to your coffee dates with telltale bruises, and you realize she's being abused by her husband. Who, of course, is also your husband. But you've never known him to be violent, ever.
Who exactly is your husband, and how far would you go to find the truth? Would you risk your own life?

And who is his mysterious third wife?
Thanks to NetGalley for this review copy!
This is the story of Seth and his three wives. The story is told in the voice of (legally married) wife #2; sometimes amorous, sometimes regretful. Seth explains his polygamy with the explanation that he grew up in Utah and with the sentence I love you all differently but equally. One day wife #2 discovers a piece of paper in Seth's coat and discovers information about wife #3, named Hannah. Wife #2 snoops some more and tracks her down, eventually, ironically, becoming friends with her. They share breakfasts and family stories without discovering they have a husband in common. However, Hannah starts showing up to their meetings with visible bruises, and wife #2 has questions. Lots of them. Seth has never been violent with her before, and she starts wondering more about the man she married. She also continues to snoop, finding wife #1 on Facebook and other social media sites. It's like she's addicted to hurting herself with this information.
The author paints a perfect picture of a woman with a polygamous man; insecure one moment and in love the next. Wife #2's internal monologues are spot-on, just another woman wondering about what her husband is thinking and what he's doing when he is away from her. The twist here is that none of the narrators are reliable, and you don't know what is going to happen next. I thought I had the story straight, then suddenly there was a plot twist and it changed EVERYTHING. After that some things made more sense, while others didn't make sense at all. I was torn between feeling sorry for wife #2 or thinking about her scornfully. Seth is no gem either, despite the fact that wife #2 keeps hanging on to him even though she is crazy jealous of his other two wives.
This book lived up to all the hype – there is drama and psychological suspense galore. Towards the end, all the characters start to decompensate, which provides for an amazing and shocking ending. I literally spent the entire day reading this book, which is something that I don't normally do. I'm eagerly awaiting Ms. Fisher's next work. You can pick up your copy of THE WIVES here.