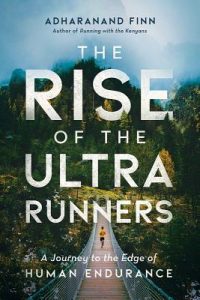 An electrifying look inside the wild world of extreme distance running.

Once the reserve of only the most hardcore enthusiasts, ultra running is now a thriving global industry, with hundreds of thousands of competitors each year. But is the rise of this most brutal and challenging sport―with races that extend into hundreds of miles, often in extreme environments―an antidote to modern life, or a symptom of a modern illness?
In The Rise of the Ultra Runners, award-winning author Adharanand Finn travels to the heart of the sport to investigate the reasons behind its rise and discover what it takes to join the ranks of these ultra athletes. Through encounters with the extreme and colorful characters of the ultramarathon world, and his own experiences of running ultras everywhere from the deserts of Oman to the Rocky Mountains, Finn offers a fascinating account of people testing the boundaries of human endeavor.
Thanks to NetGalley for this ARC!
Ever wonder what an "Ultra" race is? These races generally are from 50-100 miles long and can take place over a track, a trail, or even Mount Everest. The runners are often quirky, driven, and focused. Obsessed too – maybe just a little.
The author describes his foray into the ultramarathon world and muses upon human endurance, doping, self-image, and morals, among other things. I will say that I was a bit dubious when he started running, as he didn't really describe a strict training regimen per se. Yes, he is suffering during many races, but not many people would choose to abuse themselves the way he did to write a book. I'm alternately impressed and doubtful at the same time. That being said, we do learn (as he did) from his mistakes, such as wearing new shoes for the first time in a race and failing to fuel properly. The basic rules of ultras are the same as marathons, along with a healthy dose of mental fortitude plus a little insanity.
The racers are eager to share stories (and in some instances, their homes) with Finn, both before and after races. The author is adept at describing his transformation from a regular runner to one that can cover 100+ miles despite hallucinations and excruciating pain. Some of the descriptions of the "pain cave" (an ultrarunner term) made me cringe, then allowed me to feel grateful that an ultramarathon was not in my future. He becomes stronger physically and mentally as the book progresses. One good example he describes is about finding a place to sleep. During races that last more than a day, runners must bed down for the night before running again in the morning. Finn tosses and turns as he sleeps on the ground, or in his clothes. Later on, he comes to realize that he can sleep anywhere, because he has evolved to be comfortable with less. Finn often says that he may be becoming like the ultrarunners he is studying, then disavows that statement by saying how far he still has to go figuratively, before he can truly call them his tribe.
As in most elite sports, these athletes embrace pain and suffering. It is such a big part of their lives that if/when they become injured, they must come to terms with the fact that they may not know who they are without ultras in their life. One runner notes that she feels utterly bereft and needs to learn how to live a normal life, one without hours spent in motion.
Those who may enjoy this book the most are runners; however, anyone interested in hearing about how the human body can be forced to exceed boundaries will learn a lot from RISE OF THE ULTRARUNNERS. It is definitely a departure from most of the running books on the market.
Want your own copy? You can pick it up here.