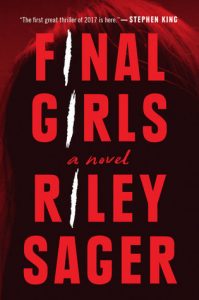 Ten years ago, college student Quincy Carpenter went on vacation with five friends and came back alone, the only survivor of a horror movie–scale massacre. In an instant, she became a member of a club no one wants to belong to—a group of similar survivors known in the press as the Final Girls. Lisa, who lost nine sorority sisters to a college dropout's knife; Sam, who went up against the Sack Man during her shift at the Nightlight Inn; and now Quincy, who ran bleeding through the woods to escape Pine Cottage and the man she refers to only as Him. The three girls are all attempting to put their nightmares behind them, and, with that, one another. Despite the media's attempts, they never meet.
Now, Quincy is doing well—maybe even great, thanks to her Xanax prescription. She has a caring almost-fiancé, Jeff; a popular baking blog; a beautiful apartment; and a therapeutic presence in Coop, the police officer who saved her life all those years ago. Her memory won't even allow her to recall the events of that night; the past is in the past.
That is, until Lisa, the first Final Girl, is found dead in her bathtub, wrists slit, and Sam, the second, appears on Quincy's doorstep. Blowing through Quincy's life like a whirlwind, Sam seems intent on making Quincy relive the past, with increasingly dire consequences, all of which makes Quincy question why Sam is really seeking her out. And when new details about Lisa's death come to light, Quincy's life becomes a race against time as she tries to unravel Sam's truths from her lies, evade the police and hungry reporters, and, most crucially, remember what really happened at Pine Cottage, before what was started ten years ago is finished
Thanks to NetGalley for this ARC!
FINAL GIRLS is a book that reads a little differently from its description. It wasn't much off – but off enough that I wished the blurb was more accurate.
Quincy starts out as a sort-of-sympathetic character, then becomes annoying and confusing. Understandably she is happy with her food blog and her ineffectual boyfriend, but somehow changes persona 180 degrees when fellow survivor Sam comes into the picture. Together they become a two person mini-mob, stealing things and causing trouble.
Sam is a character that is not only unreliable, but unhinged. Her motives seem to be clear one minute, then murky the next. I wasn't very fond of her at all and wondered how mealy little Quincy could enjoy her company. I also wondered how some of the things they did escaped unnoticed. In any case, the plot advances until the house of lies they built comes crashing down. Then follows a plot twist that I hadn't seen coming (always a good thing) and the story abruptly ends.
Despite all the activity and violence, I wasn't truly engaged in the story or the characters. I read through it halfheartedly hoping it would get better. I felt that I had to suspend my belief a few times and I struggled to care about the outcome. Perhaps if the story was a bit shorter, or there was less instances of Quincy's monologues, and baking, and flashbacks (which had no detail, really), and love-hate interactions between Quincy and Sam ……. I'm not sure. Is it possible to call a thriller "dull"? It was certainly true in this case. I'd say without a doubt FINAL GIRLS is an instance where the plot holds great promise but the writer doesn't deliver. Maybe this would have been better as a movie, given that the backdrop was similar to those silly-but-not-really 80's horror flicks. Some things just don't transition well from screen to page.
Want your own copy? You can pick it up [easyazon_link identifier="1101985364″ locale="US" nw="y" tag="gimmethatbook-20″]here[/easyazon_link].