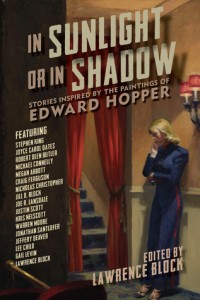 "Edward Hopper is surely the greatest American narrative painter. His work bears special resonance for writers and readers, and yet his paintings never tell a story so much as they invite viewers to find for themselves the untold stories within."
So says Lawrence Block, who has invited seventeen outstanding writers to join him in an unprecedented anthology of brand-new stories: In Sunlight or In Shadow. The results are remarkable and range across all genres, wedding literary excellence to storytelling savvy.
Contributors include Stephen King, Joyce Carol Oates, Robert Olen Butler, Michael Connelly, Megan Abbott, Craig Ferguson, Nicholas Christopher, Jill D. Block, Joe R. Lansdale, Justin Scott, Kristine Kathryn Rusch, Warren Moore, Jonathan Santlofer, Jeffery Deaver, Lee Child, and Lawrence Block himself. Even Gail Levin, Hopper's biographer and compiler of his catalogue raisonée, appears with her own first work of fiction, providing a true account of art theft on a grand scale and told in the voice of the country preacher who perpetrated the crime.
In a beautifully produced anthology as befits such a collection of acclaimed authors, each story is illustrated with a quality full-color reproduction of the painting that inspired it.
Many thanks to NetGalley for providing this ARC to me!
Edward Hopper is my favorite artist, so when I saw this opportunity to read and review this book, I was ecstatic. I was so curious to see how the authors would interpret the art and translate it into a story.
At the beginning of each chapter, the painting is shown to give the reader an idea of the muse behind the writing. I enjoyed going back to take a second and even third glance at it while I was devouring each story, even if only to compare my own thoughts behind the artwork to the words being written.
The contributors range from the blockbuster (King, Oates, Deaver, Child) to the well known (Abbott, Lansdale, Moore), and the talent follows accordingly.
My favorites: Night Windows (lush writing plus a twisty plotline), The Music Room (simple yet shimmering with darkness), and Autumn at the Automat (satisfying 1930's detail and a strong female character).
Disappointments: Rooms by the Sea (a bit too fantastical for my taste), The Incident of 10 November (a real departure for Deaver, who usually writes flawlessly; perhaps he was trying something new), and Still Life 1931 (a drab, sluggish tale that needed a bit more action).
I have always considered Hopper's paintings to be benign, peaceful works of art. Imagine my consternation when I discovered all the seamy, sordid tales that were spun! Was that the collective thought of these writers, to banish all the vague pleasantness and expose the evil lurking below the surface? I'm happy to say that I will still enjoy Hopper's paintings, despite the remnants of these stories that will surface occasionally.
Final thought: I was not aware of the backstory about the self-aggrandizing and duplicitous preacher who usurped some of Hopper's work for himself.  Author Gail Levin illustrates the entire sordid tale thoroughly.
Whether you are a fan of the artist, or just like short stories, you will enjoy IN SUNLIGHT OR IN SHADOW. You can pick up your own copy [easyazon_link identifier="1681772450″ locale="US" nw="y" tag="gimmethatbook-20″]here[/easyazon_link].