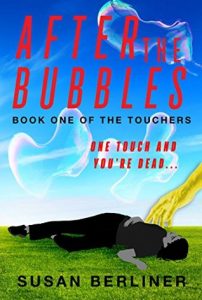 One touch and you're dead…

One minute, Erin Fredericks is daydreaming in geometry class. The next minute, she's running for her life. Oddly shaped bubbles are falling from the sky all over the world, transforming everyone who comes into contact with them into extraordinary beings that are no longer human. And these monsters want to kill people, which they can do just by touching them.
Phone systems in the United States immediately fail, followed soon after by the collapse of the power grid. With communication impossible, society disintegrates into chaos as bubble-generated monsters prowl the streets, searching for human prey.
Erin, her family, and her neighbors are trapped in their houses by Cyndy Louise, one of the evolving creatures Erin calls "touchers." As the situation worsens, Erin and the remaining residents of Walnut Lane—along with a handsome young stranger—must fight for their food, their homes, and their very lives. Facing a seemingly invincible foe, how will they manage to survive?
Many thanks to the author for this ARC!
AFTER THE BUBBLES has a unique science fiction flair to it. A quiet town is disrupted by floating bubbles that transform people into zombie-like creatures with a deadly secret – they can kill merely by touch. This twist provided a spine-chilling effect, sort of like a game of tag where you are no longer "it", but "dead". Think about all the close calls the characters have, doing their best to avoid the slightest pressure of the fingertips of these creatures.
Erin Fredericks and her family become trapped inside their house by a neighbor girl that was transformed into a zombie (or Toucher, as Erin names them). She marches up and down the block, effectively jailing people inside their homes. The only thing that affects Touchers is water – so when it rains the prisoners are happy to leave their house and seek food and other human interaction.
As Erin and her other neighbors explore their town, there is a great post-apocalyptic feel to the surroundings – there are dead bodies strewn about in the supermarket, starving dogs roam the streets, and houses are eerily devoid of occupants. Multiple Touchers attempt to stop Erin and the others from finding food or seeking other human contact. As the book progresses, the Touchers get smarter and stronger. The author does an excellent job of conveying the characters' frustration of being cooped up inside the house, waiting for a rainy day so they can move about freely.
AFTER THE BUBBLES is written in a slightly different style than the author's other books. It has a slightly YA flair to it, yet it will appeal to readers of all ages. Teen readers will especially identify with Erin's melancholy, as she wonders if she will ever have a boyfriend or be able to hang out with girls her own age again. Her brother is too young to worry about anything other than video games, while Erin is of an age where she is thinking about more adult things.
The book's story line alternates between suspense, as Touchers are dealt with, and waiting for rain. I felt that the book could have been trimmed down a bit by eliminating some of those scenes, since there were more than enough passages that conveyed that illustrated the plight of Erin and her family. That is the only issue I had while reading. Otherwise, I was engaged with the characters and hoped they would escape unscathed. The cover states that this story is "Book One" so I know there is more action to come in the future. I will definitely be looking for the second book in the series to find out what happened!
Want your own copy? You can pick it up here.