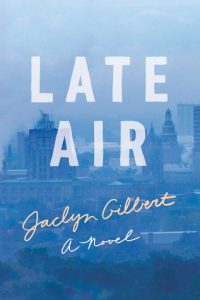 Jaclyn Gilbert's piercing and lyrically compelling debut novel about marriage, loss, and finding the path home again.

Murray has always known how to suppress his pain.

In the shadows of a predawn run, a man tries to escape what he can't control: His failed marriage. Grief. Even his own weakness. Murray is a college running coach insistent on his relentless training regimen and obsessed with his star athlete—until he finds her crumpled and unresponsive during a routine practice one morning.

Unable to avoid or outrun reality, Murray is forced to face the consequences of a terrible accident from the past…and his own increasingly tenuous grip on life.

In her debut novel, author Jaclyn Gilbert weaves together the strands of two lives that form a union as finely nuanced and delicate as a spider's web―and just as vulnerable. Following the relationship of Murray and his ex-wife, Nancy, in alternating narratives, we experience their early moments of hope and desire as well as their fears and failings. With poignancy and grace, Late Air traces the collapse of a marriage, exhausted by time and trauma, and one couple's journey to regain their footing.
Thanks to NetGalley for this ARC!
LATE AIR is at once a book about obsession, grief, and lack of communication. Collegiate running coach Murray is struggling with multiple issues, while his ex-wife Nancy has her own demons. The story is told from multiple points of view, slowly describing the events that caused the marriage to fail and the residual damage they sustained.
As Murray is trying to cope mentally with the severe injury of his star runner, Nancy is trying to banish her own thoughts of the marriage, the tragedies within, and the lack of communication between her and Murray.
I will say that to me, Murray was a very sympathetic character and Nancy was not. She seemed dramatic and overly needy. Yes, Murray was an obsessive and at times obtuse – but I feel if Nancy had tried to talk more openly with Murray instead of wishing he would do this or say that, things would have had a fighting chance. The issues within their marriage were complicated by an event that irreversibly changed them both – and certainly many marriages have failed for the same exact reason – but what complicates matters is the utter lack of communication between Murray and Nancy. It seems that they were on their best behavior when they got married but slowly settled into the patterns of who they really were. Murray was always obsessed with lists, running,  and time, while Nancy was seeking outward affection from a man who seemed unable to give it. She is so in need of feeling wanted and loved that she ends up worse off after her divorce. Her relationship with an utterly shallow man illustrates just how far a woman can fall when she is ruled by her emotions.
The main reason I wanted to read the book was the running and coaching storyline. The author does an excellent job of tying in his coaching duties spiraling into decompensation and showing us how he becomes detached from his team even as he prepares the girls for important races. The training parts of LATE AIR were true to life and much more interesting than some other parts of the book.
I will say that the book is well written, despite my lukewarm reaction to the storyline. Gilbert is adept at diving down into the deepest recesses of pain, bringing the hurt up to the surface again and again. Her ability to focus and illuminate emotions is intense, yet beautiful. I'll definitely be looking out for her next work.
Want your own copy? You can pick it up here.