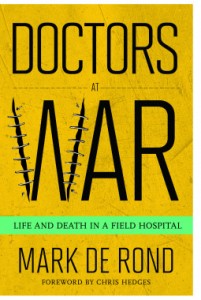 Doctors at War is a candid account of a trauma surgical team based, for a tour of duty, at a field hospital in Helmand, Afghanistan. Mark de Rond tells of the highs and lows of surgical life in hard-hitting detail, bringing to life a morally ambiguous world in which good people face impossible choices and in which routines designed to normalize experience have the unintended effect of highlighting war's absurdity. With stories that are at once comical and tragic, de Rond captures the surreal experience of being a doctor at war. He lifts the cover on a world rarely ever seen, let alone written about, and provides a poignant counterpoint to the archetypical, adrenaline-packed, macho tale of what it is like to go to war.

Here the crude and visceral coexist with the tender and affectionate. The author tells of well-meaning soldiers at hospital reception, there to deliver a pair of legs in the belief that these can be reattached to their comrade, now in mid-surgery; of midsummer Christmas parties and pancake breakfasts and late-night sauna sessions; of interpersonal rivalries and banter; of caring too little or too much; of tenderness and compassion fatigue; of hell and redemption; of heroism and of playing God. While many good firsthand accounts of war by frontline soldiers exist, this is one of the first books ever to bring to life the experience of the surgical teams tasked with mending what war destroys.
Thanks to NetGalley for providing this review copy!
The author starts out by saying that this book was never supposed to be published, due to the subject matter and the way it was perceived to be handled. That only added more intrigue to the story, to me, and I was eager to begin reading.
The story is akin to the book/TV series MASH, with beleaguered surgeons, war all around them, stress, and dark ways to relieve the boredom. There is a great deal of loss of life complicated by military rules and the Hippocratic Oath – beware, as the injuries are horrific and discussed in great detail.
The author is British; so I expected his writing style to be a bit different from American writers. In fact, I even welcomed it, as I look forward to non-American cadences and dialects in books. What I hadn't bargained for was uneven writing with obscure phrasing. At times it's hard to understand who is saying what, and there was no deep insight made on the choices the doctors had to make. At the 75% mark I realized I had not really absorbed anything meaningful except that war is hell, these surgeons were doing the best they could, and sometimes there was strangeness (the usual black humor and Christmas in July) to help the soldier's mental states. The same type of story was repeated over and over again (wounded too badly, euthanized with pain meds/crashing boredom dealt with by playing card games and trying to stay cool in the desert/occasional platitude about life) without variance or emotion.
Somehow this writer managed to make a wartime hospital seem dull. The characters are an amalgam, and so perhaps could not have been made more detailed; but I think it would have been better if he had given a little more detail about why they were doctors, what made this tour of duty different from others, etc.
It's a shame that such an important subject matter was reduced to an unsatisfying bite of pablum, as there is a need to understand what the military deals with during extended conflicts. Heart of Darkness, Catch-22, and On Call In Hell expressed the story in a more readable and gratifying way. I gave up at the abovementioned 75% mark; something I don't do often, but I just didn't want to waste any more time. Great subject – bad handling.
Want your own copy? You can pick it up [easyazon_link identifier="1501705482″ locale="US" nw="y" tag="gimmethatbook-20″]here[/easyazon_link].