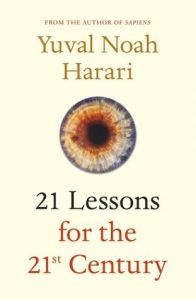 FROM THE AUTHOR OF THE MILLION COPY BESTSELLER SAPIENS

Sapiens showed us where we came from. Homo Deus looked to the future. 21 Lessons for the 21st Century explores the present. In this new book, Harari helps us to grapple with a world that is increasingly hard to comprehend. How can we protect ourselves from nuclear war, ecological cataclysms and technological disruptions? What can we do about the epidemic of fake news? Which civilization dominates the world – the West, China, Islam? What can we do about terrorism?
With his trademark clarity and vision, Harari takes us on a thrilling journey into today's most urgent issues as well as turning to more individual concerns. The golden thread running through this exhilarating new book is the challenge of maintaining our focus and attention in the face of constant and destabilizing change. Ultimately what we and our children will need is mental stability, compassion, resilience and reason. This is a crucial part of our ongoing education in the 21st Century.
Thanks to NetGalley for this ARC in exchange for an honest review!
Once again, Harari has taken his unique perspective on life, economics, technology, and humanity and summarized his thoughts in an easy to read and thought-provoking book. At times terrifying, humorous, and learned, Harari applies his unique take on things such as biometric sensors that help us make decisions and the current state of politics today. His previous books discussed the past and the future; this one concentrates on the present (mostly) with an eye to the future. Statements such as "Once AI makes better decisions than us about careers and perhaps even relationships, our concept of humanity and of life will have to change" are equally interesting and scary. The author paints a picture of a 1984-like world where 1% of humanity owns all the wealth, property and beauty and the rest of us live a nearly decision-free existence.
Harari's style is easy to digest with sly humor interspersed among the caveats. I think his main goal is to get the reader to consider our own humanity and what we can do to ensure we all stay "human" and connected. For those who have read his other books (Sapiens and Homo Deus) the themes will be familiar. He touches on religion, terrorism, and technology with equal strength. He notes in multiple places that our personal information is being taken from us slowly via Facebook and other sites, and this will have a bigger impact on our future lives more than we think. Part of me wants to be worried, and the other part feels that I'll be too old to matter when/if that ever comes to be.
21 Lessons was a bit drier than his other two works – that being said I think Homo Deus was my favorite. That does not make this work any less important, however. There is definitely something to be learned from the book, even if it just makes you more aware of the multitude of problems in the world today.
Want your own copy? You can pick it up  here.