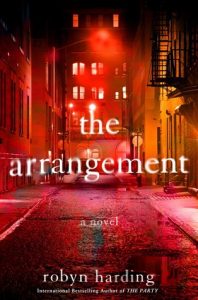 A Pretty Woman tale turns toxic and deadly in this provocative and riveting thriller of sex, obsession, and murder from Robyn Harding, the "master of domestic suspense" (Kathleen Barber) and the USA TODAY bestselling author of The Party and Her Pretty Face.

Natalie, a young art student in New York City, is struggling to pay her bills when a friend makes a suggestion: Why not go online and find a sugar daddy—a wealthy, older man who will pay her for dates, and even give her a monthly allowance? Lots of girls do it, Nat learns. All that's required is to look pretty and hang on his every word. Sexual favors are optional.Though more than thirty years her senior, Gabe, a handsome corporate finance attorney, seems like the perfect candidate, and within a month, they are madly in love. At least, Nat is…Gabe already has a family, whom he has no intention of leaving.

So when he abruptly ends things, Nat can't let go. She begins drinking heavily and stalking him: watching him at work, spying on his wife, even befriending his daughter, who is not much younger than she is. But Gabe's not about to let his sugar baby destroy his perfect life. What was supposed to be a mutually beneficial arrangement devolves into a nightmare of deception, obsession, and, when a body is found near Gabe's posh Upper East Side apartment, murder.

Emotionally powerful and packed with page-turning suspense, The Arrangement delves into the sordid, all-too-real world of shadowy relationships between wealthy, powerful men and the young women who are caught in their web.
Thanks to NetGalley for this ARC!
Before I read this story, I had no idea what a "sugar baby" was. Now I know, thanks to this mostly forgettable story by the author of THE PARTY. Everyone is entitled to a flopper sometimes, and this one is Harding's.
Struggling college student Natalie joins the over-the-top world of sugar daddies and babies when she is literally on her last dollar and has nowhere to turn. She is lacking self-confidence, but once she is dressed in designer duds and has a gorgeous older man on her arm, she becomes a sensual viper, living it up and loving every minute of it – even the intimacy. Then Daddy has a change of heart and decides to give all his attention to his beleaguered wife and hippie daughter, so Natalie loses her mind. The rest of the book is about Natalie boozing it up, complete with crying jags, stalking, and unhealthy behavior. Then there is a murder; Natalie is blamed and faces jail time.
At this point the book becomes interesting due to the plot twist and further development of Gabe's wife. Natalie is a one-dimensional whiny girl who is in over her head, and it was hard to become invested in her future. Gabe was a typical narcissist rich guy, and I could see him dumping Natalie a mile away.
Harding's writing style is great as usual, but there wasn't the usual suspense that she is known for in this book. Even the ending with the twist seemed to sputter out and die with no lasting effects. I'm sure there will be lots of people who think I'm nuts for not loving it – but we are all entitled to our own opinion. You can pick up your copy here.