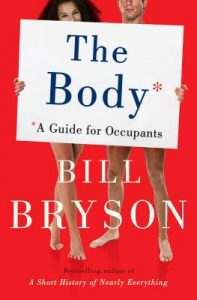 In the bestselling, prize-winning A Short History of Nearly Everything Bill Bryson achieved the seemingly impossible by making the science of our world both understandable and entertaining to millions of people around the globe.

Now he turns his attention inwards to explore the human body, how it functions and its remarkable ability to heal itself. Full of extraordinary facts and astonishing stories The Body: A Guide for Occupants is a brilliant, often very funny attempt to understand the miracle of our physical and neurological make up.

A wonderful successor to A Short History of Nearly Everything, this book will have you marvelling at the form you occupy, and celebrating the genius of your existence, time and time again.
Thanks to NetGalley for this ARC!
Did you ever wonder how many times a day you blink? Or who invented the calorie and why we are so obsessed with counting them? These answers and a multitude of others can be found in THE BODY, a wonderfully wry book of facts and stories about, well, the body we occupy. Each chapter is devoted to one of the body's systems (the gut, the nervous system, as well as sleep and the function of glands, etc) so as to build upon the last chapter's information. Here's an interesting factoid from the food chapter: fruits have been genetically manipulated to be sweeter than they were hundreds of years ago. The author purports that apples in Shakespeare's day were no sweeter than today's carrots.
I'm trying to decide whether Bryson's droll wit or the abundance of information about our body is the best part of the book. You will end up learning things without even trying – there isn't any deep scientific talk so you don't need a degree in biology to easily read this book.
There isn't a plot so much as a description of the body part, its function, and then facts and history about it. For example, in the chapter entitled "Gut" we learn how our digestive system works, then we learn about E. coli and other dangerous microbes, there is a bit about food safety, and then it's 1822 and we are reading about an unfortunate accident that left a hole in a fur trapper's stomach. This fur trapper eventually became something of a living experiment due to the injury (Google "Beaumont and St Martin" for more details if you wish).
This was an illuminating and droll read – one of the better books I have read this summer. Run, don't walk to get your copy! You will be thoroughly enlightened and entertained, and even a bit grossed out – in a good way.
You can pick up your copy here.