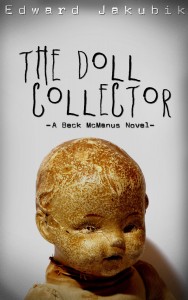 Follow Special Crimes Unit Detective Beck McManus and his hunt for the Doll Collector. Six little girls—each about to turn seven years old—go missing in broad daylight without a trace. McManus and his long-time partner, Evan Graves, are tapped to head the investigation despite virulent protests from the police commissioner, who cites McManus' own daughter's kidnapping three years prior as evidence of his unsuitability. That case was never solved, and his daughter's disappearance nearly cost Beck his career—and his sanity.
Many thanks to the author for gifting me this book! And thanks to my friend Jackie for suggesting it to me!
The characters and plot in this book were completely up my alley, and once I started reading this, I couldn't put it down. I love a killer with a twisted background, and Jakubik does not disappoint with this sadistic kidnapper.
The character of Beck McManus is authentic, and the police procedural action is spot on. Especially nice for me was the setting of Jersey City, one town over from my hometown. The description of the area is perfect, adding to the gritty atmosphere.
There is some strife going on within the police department, as always. The Commissioner is loath to keep McManus as investigator on the Doll Collector case, and with good reason. The beleaguered cop has some demons that surface now and again, and this case may be the one to push him over the edge.
All the plotlines mesh well and keep the action going; the case, the backbiting, a bit of romance (not too much, which was great), horrifying detail of what the Doll Collector does with his poor victims, and a few shocking plot twists that impressed me and upset me at the same time. I'd love to know where the idea for this madman came from—it's absolutely brilliant.
The only complaint I have, albeit minor, is that the author chose a lot of unique names for his characters, and I had to adjust to the oddity. Not the worst thing in the world, but it was harder for me to remember who everyone was in the beginning, since they all had unusual names!
Otherwise, I have nothing but good to say about this book. Jakubik should seriously consider making a series around McManus. There is truly enough talent here to support more books, and I can even see this being made into a movie as well.
If you are a fan of Thomas Harris or any other writer of psychological thrillers, please run to grab this book. You will not be disappointed, nor will you be able to get the crazed Doll Collector out of your mind anytime soon.
Yes, you want your own copy. You can pick it up[easyazon_link identifier="1494204436″ locale="US" tag="gimmethatbook-20″]here[/easyazon_link].