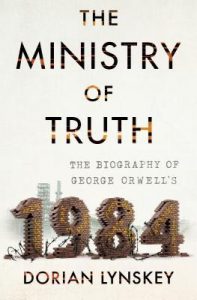 An authoritative, wide-ranging and incredibly timely history of 1984 — its literary sources, its composition by Orwell, its deep and lasting effect on the Cold War, and its vast influence throughout world culture at every level, from high to pop.

Nineteen Eighty Four isn't just a novel; it's a key to understanding the modern world. George Orwell's final work is a treasure chest of ideas and memes — Big Brother, the Thought Police, Doublethink, Newspeak, 2+2=5 — that gain potency with every year. Particularly in 2016, when the election of Donald Trump made it a bestseller ("Ministry of Alternative Facts," anyone?). Its influence has morphed endlessly into novels (The Handmaid's Tale), films (Brazil), television shows (V for Vendetta), rock albums (Diamond Dogs), commercials (Apple), even reality TV (Big Brother). The Ministry of Truth is the first book that fully examines the epochal and cultural event that is 1984 in all its aspects: its roots in the utopian and dystopian literature that preceded it; the personal experiences in wartime Great Britain that Orwell drew upon as he struggled to finish his masterpiece in his dying days; and the political and cultural phenomenon that the novel ignited at once upon publication and which far from subsiding, has only grown over the decades. It explains how fiction history informs fiction and how fiction explains history.
Thanks to NetGalley for this ARC!
Be advised – if you loved 1984 you will also love the many companion works cited in THE MINISTRY OF TRUTH. 1984 was well-known and influential, but it was just one among many dystopian/utopian works during Orwell's life. The author has definitely done his research and it shows. The beginning is heavy with politics, then smooths out about 20% in with excellent compare and contrast of HG Wells, Orwell, and Aldous Huxley.
Orwell admired Brave New World, up to a point. He had fond memories of being taught by Huxley at Eton in 1918; a classmate claimed Huxley had given Orwell a "taste for words and their accurate and significant use". However, [Orwell] was unconvinced by Brave New World's tyranny of gratification. He notes that there was no "power-hunger, no sadism, no hardness of any kind. (E)veryone is happy in a vacuous way….it is difficult to believe that such a society could endure".
The author goes on to note that 1984 and BNW overlap in one area: the status of the proles, then provides more compare/contrast dialogue. This is what makes the book shine – thoughtful and erudite treatment of multiple dystopian works and the ways they matter.
Other authors whose history is intermingled with Orwell's are included in this book. We will learn more about Yevgeny Zamyatin (who Orwell was accused of plagiarizing), Ayn Rand, and Jimmy Burnham. The movie THX1138 and Animal Farm are also discussed at length. Each of these chapters add another layer explaining the genius of the tortured and driven Orwell. As the book progresses, the politics and descriptions of war-torn London do so as well. Finally,  as the tubercular Orwell languishes in bed, post-war London starts its progression forward.
The second portion of the book brings 1984 into pop culture, and how the book affected music, movies, stagflation, and politics. Author Anthony Burgess compares his own blockbuster novel, A Clockwork Orange, to 1984 and shares his thoughts about Orwell. Time moves forward into the '60's, '70's and '80's, with politics continuing to be at the forefront. McCarthyism rears its ugly head, if only for a moment. It is amazing how the author is able to use 1984 as the center of everything – this novel was much more influential than anyone could guess.
Altogether, this book is layered with anecdotes, political views, comparison, and original thoughts. If you are a fan of Orwell, you will adore this book. I certainly gained a new view of both Animal Farm and 1984 and plan to go back to re-read both. You can pick up your copy of THE MINISTRY OF TRUTH here.