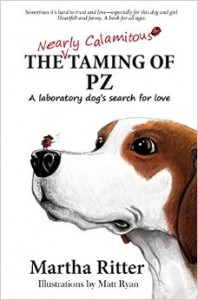 A charming, classic adventure tale about the scary, crazy, and heart-thumpingly joyful plunge into connecting with others.

A mute, nameless foxhound has spent her life in a laboratory cage. She has never seen the sun. When she gets rescued, Dottie, a diva ladybug with a heart as big as her hat, helps the dog understand the world and find a home with Olivia, a restless, solitary girl seeking comfort that her new pet cannot supply.

The isolated dog and the hesitant girl must face their fear of connecting. They learn to tame each other, let go, survive adventures, and find the courage to trust as they search for their place in the sun.

The Nearly Calamitous Taming of PZ— lyrical and approachable, with resonant details–has both humor and heart. Although intended for children eight through twelve, its classic unfolding and off-beat characters tickle the fancy of adults as well. It is both an adventure story and a tale with many layers–about overcoming obstacles, mining experience for what matters, and doing what is necessary, though not always desirable, for friendship. Ultimately, it is about the joy of a hard-won connection.

The classic illustrations–with a contemporary edge–reflect this fresh, poignant, wise, and sometimes downright wacky book.
Thanks to author Martha Ritter for gifting me this book for review! I had the pleasure of meeting her at BookCon 2015, and we had a wonderful conversation about many different things.  We discussed a book called Nest by Esther Ehrlich that I had previously reviewed, and wondered if PZ could be comparable to it.
Happily, I can state that yes, PZ is just as wonderful, touching, funny, poignant, and full of good feels as NEST. The plot is simple: lab dog ends its usefulness, goes to shelter, gets adopted, and learns about the world.  It's the telling of the story: sometimes from the dog's point of view, sometimes from the adopter's, that makes it so beautiful and a joy to read.
Your emotions will range from tears to glee as PZ navigates through a world she's never even known existed. Dotty, the ladybug that lives in her ear (just under the flap) encourages the former lab dog to be strong and learn how to be true to herself. There are moments where you can completely understand what the dog is thinking, as a situation arises and PZ reacts.  I could see her trying to go through a doorway and finding it terrifying, so much so that I was able to transfer her fictional emotions to living canines I've encountered. (I'm a vet tech by trade and felt that reading this book gave me better tools to cope with scared dogs at my clinic.)
The family that adopts PZ is a broken one. The father has passed away a year ago, and the 11 year old Olivia is getting skinny due to lack of appetite, and often breaks into tears. She and PZ circle each other warily at first, each doubting each other's ability to be a good companion. There are disappointments and triumphs, and you can see how the girl and the dog truly help each other to grow and learn.
Towards the end of the book, there is an event that affects the relationship between the shelter dog and grieving girl. I can't say I saw it coming, but it is fitting and well written. The author has created suspense and it is easy for the reader to want a happy ending, to hope that Olivia and PZ can work together as a team.  (No spoilers–you must read the book yourself!)
I felt I would be able to read this story without tearing up or laughing out loud. I was wrong! There is pathos and humor that fits perfectly together, and the plot advances seamlessly. What a perfect way to convey so many ideas: love, trust, uncertainty, and growth.  The illustrations complement the story, and add that other dimension of having a perfect picture of what the characters look like. The drawings are alternately moving and comic, without being too complicated.
Want your own copy? Yes, you do. Everyone should read this book.
You can pick it up [easyazon_link identifier="0986381713″ locale="US" nw="y" tag="gimmethatbook-20″]here[/easyazon_link].