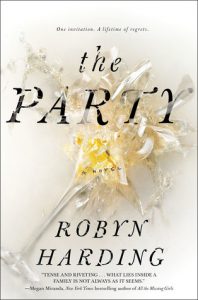 In this stunning and provocative domestic drama about a sweet sixteen birthday party that goes horribly awry, a wealthy family in San Francisco finds their picture-perfect life unraveling, their darkest secrets revealed, and their friends turned to enemies.
One invitation. A lifetime of regrets.
Sweet sixteen. It's an exciting coming of age, a milestone, and a rite of passage. Jeff and Kim Sanders plan on throwing a party for their daughter, Hannah—a sweet girl with good grades and nice friends. Rather than an extravagant, indulgent affair, they invite four girls over for pizza, cake, movies, and a sleepover. What could possibly go wrong?
But things do go wrong, horrifically so. After a tragic accident occurs, Jeff and Kim's flawless life in a wealthy San Francisco suburb suddenly begins to come apart. In the ugly aftermath, friends become enemies, dark secrets are revealed in the Sanders' marriage, and the truth about their perfect daughter, Hannah, is exposed.
Harkening to Herman Koch's The Dinner, Christos Tsiolkas's The Slap, and Liane Moriarty's Big Little Lies, The Party takes us behind the façade of the picture-perfect family, exposing the lies, betrayals, and moral lapses that neighbors don't see—and the secrets that children and parents keep from themselves and each other.
Many thanks to NetGalley for this ARC!
THE PARTY is a roller coaster, unputdownable book where all the characters are despicable. It's the story of a sweet 16 birthday party gone horribly wrong, with consequences that will last a lifetime. Hannah, the daughter, is just trying to be more popular. Kim and Jeff are her parents, with the trope of "strict goody two shoes mom" plus "emasculated father trying to be cool". The events of the fateful night are told over flashbacks, over the course of the story; which kept me interested and hungry for more detail.
The complex and turbulent relationships between the characters are drawn well and evoke a great deal of emotion. Everyone is manipulating – or manipulated by- someone else. There are multi layered agendas. There are mean girls. There is isolation, greed, and shallowness.
I literally could not wait to get back to the book, and thought about it while I wasn't able to read; I just had to see what was happening next. It's the kind of book you read with incredulity, wondering if there is going to be a happily ever after despite knowing another crash is coming.
The author exposes the ugly side of relationships with adeptness, even glee (if you read between the lines). Just when you almost start feeling sorry for someone, they expose their seamy side and you go right back to sneering at them. Delicious!
Do people really behave this way now, or is it just something that takes place in fiction? I am glad I don't have to navigate the treachery of high school, where Facebook posts are created to hurt, and cliques do a lot more than name calling.
No one escapes unscathed from THE PARTY – it's the kind of story that you will think about for days after you finish the book, considering all the wrong choices every character made and how it affected their lives.
Want our own copy? You can pick it up [easyazon_link identifier="1501161245″ locale="US" nw="y" tag="gimmethatbook-20″]here[/easyazon_link].