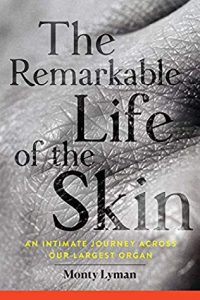 Providing a cover for our delicate and intricate bodies, the skin is our largest and fastest-growing organ. We see it, touch it, and live in it every day. It is a habitat for a mesmerizingly complex world of micro-organisms and physical functions that are vital to our health and our survival. It is also a waste removal plant, a warning system for underlying disease and a dynamic immune barrier to infection. One of the first things people see about us, skin is crucial to our sense of identity, providing us with social significance and psychological meaning. And yet our skin and the fascinating way it functions is largely unknown to us.

In prose as lucid as his research underlying it is rigorous, blending in memorable stories from the past and from his own medical experience, Monty Lyman has written a revelatory book exploring our outer surface that will surprise and enlighten in equal measure. Through the lenses of science, sociology, and history—on topics as diverse as the mechanics and magic of touch (how much goes on in the simple act of taking keys out of a pocket and unlocking a door is astounding), the close connection between the skin and the gut, what happens instantly when one gets a paper cut, and how a midnight snack can lead to sunburn—Lyman leads us on a journey across our most underrated and unexplored organ and reveals how our skin is far stranger, more wondrous, and more complex than we have ever imagined.
Thanks to NetGalley for this review copy!
Our skin is our largest organ – a fact that is often overlooked. Author Monty Lyman strives to put our skin front and center in this book. Each chapter covers a different aspect of what a marvelous organ our external covering is, from scientific to religious. The author discusses tattoos, skin conditions such as psoriasis, and discrimination based on skin color.
I found the medical portions to be the most interesting; I learned more about lice than I ever planned to. Despite the jargon, this section of the book is easily comprehended, aided by drawings that illustrate the author's point.
We also learn about how sunburn affects us, why itches are so maddening, and exactly how many microscopic parasites live on us, no matter how clean we are. Each chapter builds upon the previous ones, creating a thorough picture of our skin and why it is so amazingly unique.
Lyman uses anecdotes and history to supplement his writing. He also is unafraid to discuss uncomfortable topics such as racism and lepers, which I found refreshing. I learned a lot about the misinformation surrounding lepers, plus I enjoyed the philosophical leaning during the chapter on racism based on skin color. He even takes a detour into religion, noting that some beliefs require covering most of the skin, while others worship "skyclad" (naked). Despite our differences, our outer covering makes us the same, and you will understand that better once you finish THE REMARKABLE LIFE OF THE SKIN.
I have a new respect for my skin now that I have finished this book – I bet you will too! You can pick up your copy here.