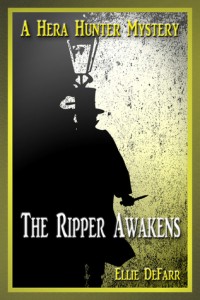 Six women dead at the hands of a brutal killer, and she's next on his list!

Hurting from the death of a good friend, PI Hera Hunter has taken up residence in the mountain village of Rosewood. There, within a cabin owned by her foster parents, she finds solitude and peace. But not for long. After a local barmaid is murdered, Sheriff's Deputy Mitch Haygarth concludes it's the work of a serial killer who's been terrorizing a small town thirty miles away. The killer has a taste for victims who share Hera's physical traits. On a dark night thick with fog, the killer crosses Hera's path, setting in motion a cat-and-mouse game between two dangerous adversaries. Both are accustomed to violence. Each is determined. But only one will survive.
Many thanks to the author for gifting me this ARC!
Our favorite private investigator is trying to find peace and quiet after the brutal murder of a good friend. All she wants is to be left alone with her thoughts, as she mourns and heals. However, her sense for justice is awakened as she learns of a serial killer targeting women in a nearby town.
Hera's erstwhile companion Lucky is still sniffing out danger and giving comfort to those who need it. One of my main reasons that DeFarr is one of my favorite authors is her ability to make Lucky come alive in his actions. He is always polite as Hera brings him along to a restaurant or a bar, yet never hesitates to jump in with a growl if Hera is threatened.
RIPPER has a few plotlines happening at the same time; there are a few shady characters that Hera needs to get to know better; she is also back in contact with people from her past, causing an emotional reaction; and the body count is increasing as the murderer continues his spree.
The mayor of Rosewood is especially interested to have Hera solve the murders – but when she starts looking into his background she finds a few unsavory things! Almost all the characters in the book have skeletons in their closet – and it's only a matter of time until Hera uncovers them.
She is still emotionally unstable due to the loss of her best friend – she is feeling both guilt that it was her fault, plus she is trying to deal with the sense of loss. As a result, Hera is somewhat different in this installment, personality wise. She is off her game, so to speak – but this makes her a kinder, gentler person. This is purely inadvertent on her part, and I'm curious to see if this changes in the next book. She lets people speak without interrupting them, she appears to be listening, and she keeps her temper in check. You can definitely tell that Hera is not herself. This is not to say she is a pushover. She continues to be fearless, sneaking into houses and searching for clues despite the constant threat of danger. Hera is awesome that way; she will take up for the helpless and hopeless and try to find them justice. She may be in need of help herself, but puts others first.
One thing of note that stuck out in my head; one of the murder victims is a girl from Hera's past. She and Hera were involved in a fist fight years ago, yet everyone remembers the victim as a sweet girl and Hera as the bully. I would have liked to hear more (even as a flashback) of how this disparity came to be. Hera expresses dismay and confusion every time she hears others reminisce about how the victim was such a wonderful person, but the whole backstory really never gets fleshed out.
Otherwise, THE RIPPER AWAKENS is another well written, easily devoured book by Ellie DeFarr. I am curious to see if DeFarr brings Hera back to Centreville or if she will travel off to a new town and new adventure. No matter where she goes, I know she will be seeking justice for someone!
Want your own copy? You can pick it up[easyazon_link identifier="B01KNFD2Z6″ locale="US" nw="y" tag="gimmethatbook-20″]here[/easyazon_link].