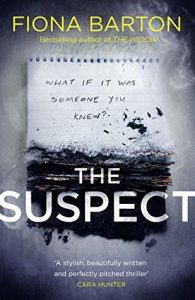 The new must-read standalone crime thriller from the author of Sunday Times bestseller, The Widow, and the Richard & Judy No. 1 bestseller, The Child – featuring unforgettable journalist, Kate Waters.
The police belonged to another world – the world they saw on the television or in the papers. Not theirs.
When two eighteen-year-old girls go missing on their gap year in Thailand, their families are thrust into the international spotlight: desperate, bereft and frantic with worry.
Journalist Kate Waters always does everything she can to be first to the story, first with the exclusive, first to discover the truth – and this time is no exception. But she can't help but think of her own son, who she hasn't seen in two years since he left home to go traveling. This time it's personal.
And as the case of the missing girls unfolds, they will all find that even this far away, danger can lie closer to home than you might think . . .
Thanks to NetGalley for the ARC!
Fiona Barton still has the touch in this latest Kate Waters mystery. We become a little more acquainted in Kate's personal life while she is investigating a story of how two girls go missing during a trip to Thailand. During a series of plot twists, Kate becomes part of the journalist's fodder and experiences what it is like from the other side – knocks on your door day and night, having to hide from the press, and looking over your shoulder all the time.
One of Barton's hallmarks is that some of her characters are unreliable narrators. Sometimes you don't find out who is unreliable until you have finished half the story, other times it is painfully obvious. THE SUSPECT is a tale that shifts your perspective on the reliability of a character multiple times. Are the good guys really good? Are you supposed to read between the lines of one girl's email to her best friend, or is she just sharing her innermost thoughts?
Set in the UK with flashbacks of the girls' trip to Bangkok, the story unfolds as Kate ingratiates herself with the girls' parents and tries to uncover what happened to them. Once certain details come to light, Kate is removed from the case and becomes a pariah. The author leads you down a path that makes you certain you know the truth…then swiftly changes the course of your journey.
More sensual tension simmers between Kate and Detective Bob Sparkes, despite the fact that his wife is expected to die from cancer within a few months. His character is wonderfully written, full of conflict, regret and fatigue.
The parents of the missing girls are all rage and accusation, blaming each other even as they cling to the small hope that their daughters are still alive. They turn on each other like vipers, then close ranks against the journalists who seek to create a story out of their pain.
The seedy atmosphere of Bangkok's underworld is a perfect setting. If I were a parent, I would never want my daughter taking a trip there, regardless of how many friends she had with her. Some other reviews note that there is really nothing good mentioned about Thailand; I feel that is to make the story a bit darker and have the actions of the characters appear insidious.
I'd be interested to see if Barton includes some of the characters from this book in a future one. This was definitely an enjoyable read.
Want your own copy? You can pick it up here.