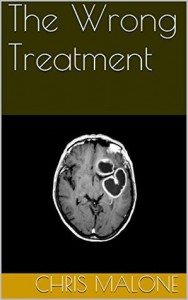 A fast paced medical thriller with a serial killer on the loose. Adam Hooker was delighted to be working with advanced technologies such as MRI to help doctors perform surgery and treat patients, but his world is overturned when his brilliant mentor Gary dies in a horrific accident. But it seems Gary may have had dark secrets and everything points to his involvement in a series of recent murders and attacks on women. Adam is determined to find the truth and clear Gary's name, and is finally able to connect the dots between Gary's death and the real killer. All this is set against a background of hi-tech medicine and political intrigue within a top-ranked research institution.
Thanks to Word Slinger for gifting me this book for review!
Once you get past the first 30 pages, and get used to the formatting of dialogue and occasionally awkward phrasing, this story grabs you and keeps you interested. The plot has a few tendrils: the horrific (majorly gory details) murder of a scientist via overactive radiotherapy machine; other members of the scientific community with secrets they wish to keep hidden; a grasping and pompous hospital Vice President with a licentious mind; and a man with a brain tumor.
THE WRONG TREATMENT takes place in the United States, but the writing is quite British, which may seem confusing to some readers. I did find it endearing that so many American things were being written about with a British slant, and I will say that the author is very familiar with his subjects. Neurosurgery is a complicated science but there was nothing in here that was overwhelming. The author takes pains to describe computer programs and certain treatments in plain language.
Each chapter takes place in a day, with the entire book encompassing 14 days of action. A scientist is murdered and his best friend and co worker tries to figure out who did it and why. As always, I loved that the criminal was not obvious in the beginning. I pegged different characters over the course of the book a few times but was always wrong, as the murderer is not made clear til the final pages.
A research lab must be written about in such a way that the details are correct and not too dull. Malone fulfills this beautifully! The science makes sense, the details are grasped easily, and nothing is too over the top. I can imagine Michael Crichton nodding his head at the finished product. I especially liked the boardroom intrigue and back stabbing as well – the machinations of science and politics are done quite well.
The main character, Adam Hooker, grows as a person over the course of the two weeks, becoming more confident in himself and his decision making ability. Dr Cummings, Chief of Neurosurgery, is a very sympathetic character with a brain damaged son and conflicting inner thoughts regarding that son.
Overall, the writing style is not as polished as I've seen, but the plot and character development is solid, the suspense builds properly, and things are brought to a close in a believable manner. I have a second book of Chris Malone's to review and I'm looking forward to it!
Want y our own copy? You can pick it up [easyazon_link identifier="1517595096″ locale="US" nw="y" tag="gimmethatbook-20″]here[/easyazon_link].