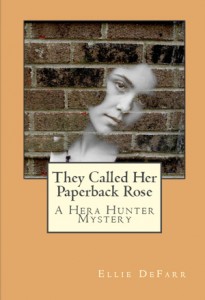 The streets are a dangerous place for young runaways. PI Hera Hunter knows. She's been there. So when Paperback Rose falls to her death and the police call it a suicide, Hera is skeptical. Calamity Jane, another street urchin, insists that Rose was not alone when she fell. Hera isn't sure she believes Jane since the girl's a thief, pickpocket, liar, and peeping Tom. But when Rose's parents hire her to determine what happened to their daughter, Hera soon finds that she must discover the evil lurking in her town that gives reason for throwing a child off the top of a three-story tenement house.
Thanks to the author for offering me this book for review.  This is the 3rd book in the Hera Hunter series, and it's another winner! You can see my review of Melancholy Manor, book 2, here.
All our favorites are back in this installment: Toby, Gwen, Billy (Hera's sister), and intrepid crime fighting dog Lucky. His presence adds a unique touch to many scenes and DeFarr's wonderful descriptions of him warm my heart. His tail just doesn't wag, it "sweeps across the bedspread". And he always wins races down the hallway, because Hera lets him. (Don't tell!)
We also delve deeper into Hera's personality, as she experiences disappointment in her attempt to have a relationship. Her beau is rarely free, and falls asleep on Hera during a date. Good thing Lucky is there to keep her company.
Hera is a loner by nature, and finds her heart being tugged by the urchins of Centreville, an emotion she is not entirely comfortable with. I liked DeFarr's broadening of the character here, as it adds another layer that complements the plot perfectly. Learning more about what makes a character tick is a joyful thing.
In fact, almost everything about PAPERBACK ROSE is done well. We see a new side of Centreville–the homeless children with their street names have their own community suspicious of outsiders, and this reluctance to share things drives the plot forward, as Hera tries to figure out if things are clues or red herrings. We see the sly humor undermining the pathos also, as Hera laments the copious use of tissues by a grieving woman. It's a soft touch that many writers can't pull off but it works well here.
Dirty politics rears its head also, under the guise of Toby's brother Clement Isles, the villanous Senator.  He seems to be mixed up in something nefarious (as usual) and irritates Hera by becoming a bit too familiar with her. It is rare to have a main character that is opposed to getting ahead by flirting, and Hera is a refreshing woman. Her "all business" exterior may be off putting to some, but it keeps the plot moving forward at a constant speed.
The final few pages of this book are riveting, as DeFarr outdoes herself. The intense plot twist left me shocked and in disbelief, both at the events that transpired and the significance of those events. No spoilers here, as usual! You will have to pick up this stellar book and read for yourself. Get your copy [easyazon_link identifier="1515271676″ locale="US" nw="y" tag="gimmethatbook-20″]here[/easyazon_link].