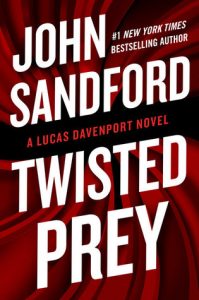 Lucas Davenport confronts an old nemesis, now more powerful than ever as a U.S. senator, in the thrilling new novel in the #1 New York Times-bestselling Prey series
Lucas Davenport had crossed paths with her before. A rich psychopath, Taryn Grant had run successfully for the U.S. Senate, where Lucas had predicted she'd fit right in. He was also convinced that she'd been responsible for three murders, though he'd never been able to prove it. Once a psychopath had gotten that kind of rush, though, he or she often needed another fix, so he figured he might be seeing her again.
He was right. A federal marshal now, with a very wide scope of investigation, he's heard rumors that Grant has found her seat on the Senate intelligence committee, and the contacts she's made from it, to be very…useful. Pinning those rumors down was likely to be just as difficult as before, and considerably more dangerous.
But they had unfinished business, he and Grant. One way or the other, he was going to see it through to the end.
Thanks to Netgalley for this ARC in exchange for an honest review!
Twisted Prey is the 28th book in the bestselling series by John Sandford. The teaser here is that Federal Marshal Lucas Davenport may finally be able to put paid to the evil Taryn Grant, who got away a few books back (see Silken Prey). An "accident" involving a US Senator is brought to Davenport's attention, and soon enough, all the wonderful characters of Sandford's imagination come out to play. I especially enjoyed reading the pithy cop talk between officers Bob and Rae; the scene with the donuts was spot-on!
Taryn Grant is quite the narcissist in this book, as she manipulates others to do her bidding. Despite Davenport's more-than-a-hunch feelings that she is the bad guy, there is no clear evidence linking her to the accident in the beginning of the book. She's got plenty to hide, though, and does it well. Shame that such a smart female character has to be so evil. She is not my favorite bad character – despite her ambition she seems too flat for my liking.
There was a bit too much politics in this installment to be perfect; all the discussion of defense contracts and the like bogged the story down a bit. This was a middle-of-the-road book; familiar characters doing familiar things, yet it took just a touch too long to wrap up. This may be due to the setting being Washington, DC – when the stories take place in Minnesota there is something oddly comforting about the location. I wonder how much of the story was written out of inspiration vs having to wrap up the Taryn Grant situation?
However, no Prey book is truly heinous. We also find that Davenport isn't untouchable, as an encounter with some bad guys leaves him screaming like a little girl (one of the funniest vignettes in the book). He is getting older and feeling it, which is a refreshing touch.
Twisted Prey is an enjoyable way to spend a few hours of your time, however, long time Sandford fans may feel a little let down with the heavy concentration on the politics. Let's see what happens in the next installment – maybe Lucas will be back on his home turf again.
Want your own copy? You can pick it up on Amazon.