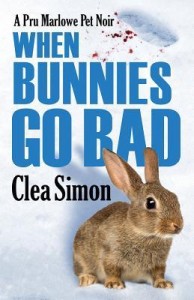 Winter is hard in Beauville, where the melting snow can reveal much more than last season's dead leaves. So when a wealthy, obnoxious tourist and his ski bunny girlfriend surface in Pru Marlowe's little Berkshire town, she knows she should stay out of their way. The bad-girl animal psychic has to focus on more immediate concerns, including a wild rabbit named Henry, supposedly tamed and illegally living with an eighty-four-year-old lady in her home. Henry, who seems to be acting out and hiding, avoids responding to Pru. Yet when Pru discovers the tourist murdered and his girlfriend's high-maintenance spaniel falls to her care, she gets dragged into a complicated case of crime and punishment that involves some new friends, an old nemesis, and her own shadowed past. A recent museum art heist draws the feds into the investigation along with a courtly gentleman radiating menace, who represents secretive business interests in New York and shows a surprising awareness of Pru. Her on-again, off-again romance with police Detective Creighton doesn't stop him from warning her to steer clear of the inquiry. The spaniel, however, lures her in. Pru lives in a world where only her crotchety tabby Wallis knows the whole truth about her past, her flight from Manhattan, and her unique gift that surfaced abruptly one day. Fearing the worst, Pru now comes dangerously close to being exposed. With everything in motion, Pru, Wallis, and everyone they hold dear will be lucky to escape by a hare.
Many thanks to NetGalley and the author for the ARC!
The Queen of Pet Noir is back! BUNNIES is a little darker outing this time, with Pru choosing to do most of the work herself, with minimal input from Wallis. It also seemed that everyone was untrustworthy – whatever things seemed to be on the surface turned out to be the opposite.
Author Simon has a lot going on in this tale, and at times I felt it took a while for the plot to advance. Pru struggles with understanding the "why" and "who", despite a seemingly simple murder. In the beginning, things appear to be just another murder. But just as snow will melt away, uncovering more detail underneath, the murder turns into two, Pru's cop beau is taken off the case, and a mysterious gentleman gangster keeps showing up.
For those that haven't read the first few installments of the Pru Marlowe story, things may not make sense quickly. However, as you read, you will see Pru become more aware of where she is in her life, and what she has become due to her dubious "gift" of being able to communicate with animals.
She learns to accept that things don't always go as they should; and becomes even closer in a way to those animals that identify as prey. Gangster Benazi continues to keep Pru off balance as he continually alludes to her "gift" – and refers to it openly, much to her dismay.  She is terrified of anyone finding out the truth about her, and through these thoughts Pru understands how prey animals must feel.
It takes a strong person to let your vulnerability show – and Simon shows us Pru in all her incarnations. We see not just a cute story about a woman who can talk to animals; we can see the character evolving and growing into someone more aware of her place in the bigger picture of the world.
Enjoyable as always are the regulars: Growler, Frank, and of course Wallis. We also meet a sweet spaniel who just wants to be next to the man he loves – if only Pru could figure out who he is!
Simon dangles some interesting things in front of us at the end, leaving things open for another book. I know her many fans will be grateful for this, including me!
Want  your own copy? You can pick it up [easyazon_link identifier="1464205353″ locale="US" nw="y" tag="gimmethatbook-20″]here[/easyazon_link].