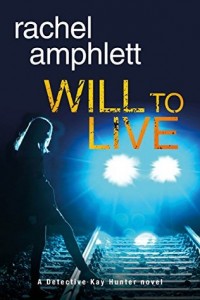 Reputation is everything.
When a packed commuter train runs over a body on a stretch of track known to locals as 'Suicide Mile', it soon transpires that the man was a victim of a calculated murder.
As the investigation evolves and a pattern of murders is uncovered, Detective Sergeant Kay Hunter realises the railway's recent reputation may be the work of a brutal serial killer.
With a backlog of cold cases to investigate and attempting to uncover who is behind a professional vendetta against her, Kay must keep one step ahead of both the killer and her own adversaries.
When a second murder takes place within a week of the first, she realises the killer's timetable has changed, and she's running out of time to stop him…
Many thanks to the author for giving me this book in exchange for an honest review!
Rachel Amphlett is a master at starting a story off by grabbing your attention, and this one is no exception. A horrific murder takes place on the railroad tracks and intrepid detective Kay Hunter is tasked with finding the killer.
WILL TO LIVE has two strong female characters: Kay and her coworker/sidekick Carys. Together they support each other and race against the clock to find the murderer before he kills again. I'm happy to report that the killer's identity was not evident until nearly the end; and there were some delightful red herrings and twists along the way.
I can't recall many murder mysteries taking place in railway yards, so I'm giving kudos to Amphlett for creating suspense in a creative location There is always a great opportunity to make death by train gory, and those who like a bit of gore will not be disappointed.
This installment delves a little deeper into the secondary plot of Kay's personal mission – she is trying to find out who removed evidence from a previous investigation, causing friction between her and DCI Larch,a superior officer. Some hints are dropped but that part of the plot doesn't have a lot of forward motion, much to my chagrin. I really want to find out who the guilty party is!
Kay Hunter's character is completely human, which makes the book a good read. One reason is that she is not one of those perfect cops that never make a mistake; plus she has stress and self-doubt and guilt. She also has people on her side, which tempers Larch's dismissive and possibly abusive attitude towards her. I so cannot wait for him to get his comeuppance in a future book!
The only thing that I would question is the mention of "antidepressants" used to drug the victims. Without any drugs being named, I was hard pressed to figure out what drugs were being used that could cause a reaction like that. I'm certainly not an expert, but that was a small detail that seemed out of place to me. This could be entirely my ignorance and not the fault of the author. Otherwise, the story moved along at a rapid pace. The ending wrapped things up neatly, leaving me both satisfied and ready for another round with Kay.
Amphlett is a writer that I would always say yes to. Her style is polished and realistic without being overly heavy on either dialogue or description – it's a perfect blend of both along with plenty of suspense.  If you haven't read any of her work I absolutely recommend it!
Want your own copy? You can pick it up [easyazon_link identifier="B06XZHB17C" locale="US" nw="y" tag="gimmethatbook-20″]here[/easyazon_link].