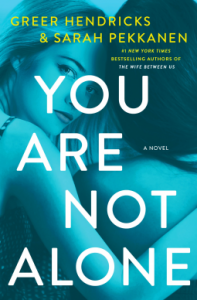 You probably know someone like Shay Miller.
She wants to find love, but it eludes her.
She wants to be fulfilled, but her job is a dead end.
She wants to belong, but her life is becoming increasingly isolated.

You probably don't know anyone like the Moore sisters.
They have an unbreakable circle of friends.
They live a life of glamour and perfection.
They always get what they desire.

Shay thinks she wants their life.
But what they really want is hers.
Thanks to NetGalley for this review copy!
This is a difficult review to write. Overall the book was a pleasant read with areas of suspense, but for the most part the plot took a while to advance and there were a lot of characters to keep straight. It also seemed that Shay was prone to make bad decisions or choose no course of action at all. I found myself wishing that she would have more of a backbone. Towards the end she seemed more in touch with reality, once she figured everything out.
I felt a little uncomfortable with all the stalking Shay did; it advanced the plot, but I kept thinking that there was no way she would have been able to get away with it in real life. I also was anticipating the police (or the sisters) would eventually catch up to her at the worst possible moment.
Multiple characters mean multiple POV's. This changed with each chapter and at times it was difficult keeping everyone's story straight, especially some of the more minor characters.
What I did like: The suspense kept building up until the end – the last 25% of the book was the best part. I could not guess the ending until almost the last pages; once I did, I was very glad things turned out the way they did. I enjoyed hating Jody, Shay's roommate's girlfriend. She definitely was someone to keep your eyes on and her despicableness did not disappoint.
I enjoyed the authors' other books and will look forward to reading the next one. They are masters of the psychological twist and you can be sure each book will leave you thinking about the characters for a few days after you are done.
Want your own copy? You can pick it up here.