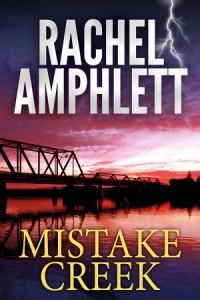 When Nina O'Brien returns to the small town of Mistake Creek after ten years, she's in a race against time to protect her father's business from an incoming storm so it can be sold to pay for his urgent medical treatment.
As flood warnings echo over the radio and the storm breaks with enormous force across the tiny Californian community, Nina is joined by others seeking shelter from the onslaught.
Her life is changed forever when a stranger appears at her door, bloodied and incoherent.
With a ruthless killer exposed among the small group, Nina is thrust into a deadly conspiracy involving a military veteran seeking revenge and an FBI agent desperate to prevent a catastrophic terrorism threat.
Alone, with no means to raise the alarm, Nina realises that to save one man, she must learn to trust another.
Thanks to the author for giving me this book in exchange for a review.
MISTAKE CREEK is a thriller with lots of action. In the first part, a violent storm traps lead character Nina and a few others inside her family's abandoned gas station. When people start dying, she finds out that a family friend is involved in an FBI sting operation. The action picks up even more after that, as Nina and FBI agent Kyle must escape from the gas station and prevent a terrorist from carrying out his plan. There are thrilling motorcycle rides, close escapes, and plenty of death and destruction as the book goes on.
Nina is a strong woman, not interested in being left behind while Kyle tries to save the day. Despite her asthma, she holds her own. Amphlett treats her characters equally; no shrinking violet females in her books! Even as a hint of romance stirs between Nina and Kyle, the action continues and soon the duo are fighting for their lives. There is a bit of MacGuyver in the FBI agent Kyle's character, as he constructs bombs and figures out what household items make good weapons.
I felt suspense as I kept reading; would they be able to prevent disaster, or would they encounter it themselves? Amphlett is also not afraid to kill her characters–Nina's family friend sustains serious wounds and you won't find out until the end of the book if he lives or dies. Adding to the tension is the fact that Kyle is not able to use one of his arms well due to a shoulder injury he got in the first few pages.
Once things start rolling, MISTAKE CREEK is a straightforward read, with characters you can't help but root for. I especially enjoyed the gleam in Kyle's eyes every time he got ready to engage in combat…what a unique touch! The scenario is completely believeable, and it was easy to picture the surroundings in my mind, due to the author's excellent eye for detail. Her description of the torrential storm in the beginning was fantastic. I was surprised to find myself not soaked and windblown, the narrative was that picturesque.
This book is another winner from Rachel Amphlett–do you want your own copy? You can pick it up [easyazon_link identifier="B00X24VMOO" locale="US" tag="gimmethatbook-20″]here[/easyazon_link].