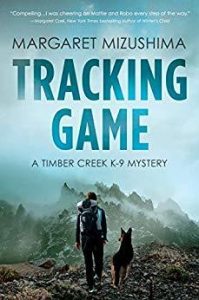 Two brutal murders, a menacing band of poachers, and a fearsome creature on the loose in the mountains plunge Mattie Cobb and her K-9 partner Robo into a sinister vortex.
An explosion outside a community dance sends Mattie Cobb and Cole Walker reeling into the night, where they discover a burning van and beside it the body of outfitter Nate Fletcher. But the explosion didn't kill Nate–it was two gunshots to the heart.
The investigation leads them to the home of rancher Doyle Redman, whose daughter is Nate's widow, and the object of one of their suspect's affection. But before they can make an arrest, they receive an emergency call from a man who's been shot in the mountains. Mattie and Robo rush to the scene, only to be confronted by the ominous growl of a wild predator.

As new players emerge on the scene, Mattie begins to understand the true danger that's enveloping Timber Creek. They journey into the cold, misty mountains to track the animal–but discover something even more deadly in Tracking Game, the fifth installment in Margaret Mizushima's Timber Creek K-9 mysteries.
Thanks to NetGalley for this ARC!
This is another winner for the author! I'm a big fan of the series about troubled cop Mattie Cobb and her K9 partner, Robo. The love and respect Cobb has for her dog shines through in each book and this one was no exception.
A twisty murder mystery is the setting for this latest installment, with the backdrop of the Colorado mountains looming large as usual. Unique to this story was a subplot of big game hunting and a ferocious big cat on the loose. Mattie must depend on Robo to keep her safe from both human and animal as they track a killer.
We learn a bit more about Mattie's past – the author loves to peel back the layers bit by bit in each book, which helps develop the character, as well as adding to the reader's kinship with Mattie. She is a troubled soul, fiercely independent and devoted to her canine companion Robo. The ways in which Mizushima describes their interactions is both heartwarming and jaw-dropping – this German Shepherd is such a smart dog!
I was also happy to see Mattie's romance with veterinarian Cole Walker developing some more – there is a lot of chemistry between them and he is so good for Mattie's wounded soul. In fact, there are a few ways that Mattie overcomes some of her fears in TRACKING GAME – I was proud of her for getting out of her comfort zone.
If you love backcountry mysteries, you will love the Timber Creek series. There is just enough fast-paced intrigue plus a little romance to keep nearly every reader interested. This book could be read as a stand-alone, but some of the references will go over the heads of readers. This will not detract from the plot or outcome, but it is always recommended to start with the first book and go from there. I am anxiously awaiting the next mystery from Mizushima; she is one of my favorite authors and I'm always ready to dive into her next work. Grab your copy here!