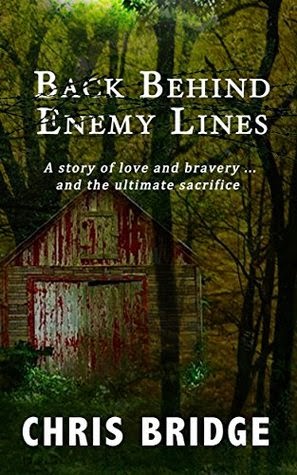 It is 1944 and Anna is parachuted into Normandy as a special agent working with Resistance Groups, spying on the Germans and wiring the information back to the Special Operations Executive, escaping capture and the inevitable torture that would follow.

She falls in love with Pierre, another SOE agent but finds he is not what he purports to be. Then there is the little matter of the Gestapo officer who has guessed her secret. Alone, Anna has to make some terrifying decisions to survive and to ensure the impending invasion remains secret.

It is 2006 in England, where her husband has died and Anna lives alone. Her children are spying on her and plot to put her in a home so that they can sell her house for their own ends. Anna is determined to retain her independence. She falls back on her wartime skills, recruiting Nathan and his girl friend Gemma to help her and becomes close to them as she never was with her own children.

But it is only when she returns to Normandy and confronts the ghosts of her past that she realises how the war had taken its toll on her loveless marriage and her children. She makes the ultimate sacrifice and finally finds the peace and redemption that had evaded her all these years.
Many thanks to Publishing Push for offering this book in exchange for this honest review. At the end of the review there's a link to enter our contest for a FREE ePub version of this book!!
BACK BEHIND ENEMY LINES is two stories in one. The first part of the book follows Anna as she fights in WWII as a spy: her triumphs, her fears, her growth as a person, and ultimately, her tragedies that shape the rest of her life. The wartime details were gritty and captured the sense of despair and hardship throughout France at that time. The story is completely plausible, and paints Anna as a steady and hard working woman, with perhaps too tight a hold on her emotions.  When her situation develops a twist, she has no one to rely upon except herself. I found a good deal of suspense in this part kept me reading, wondering what would happen next.
The second part of the story takes place in 2006; Anna is home and suffering the expected health and mental issues of a 90 year old woman. Her children are hateful, greedy, and loathsome, gathering together to see how quickly they can put her in a home and take her house and money for themselves. Anna, decrepit as she is, digs deep inside herself to regain the mental strength she once possessed and thwart her offspring. Purely by chance she develops a friendship with two teenagers, who help her in her final quest to return to France and put answers to questions that have plagued her all her life.
This part also held suspense for me; I liked elderly Anna much better and felt she was a very sympathetic character. Unfortunately this situation is all too true in today's world, and people forget that seniors have memories dear to them and were accomplished people in their younger days, they should not be viewed as a burden or problem. It was heartening to see how Anna grew interested in life again, and the reader will feel her getting stronger as the book progresses. Each scene with one of the horrid children is appropriately enraging–there was plenty of times I wanted to smack each one of the ingrates over and over again.
Finally Anna is able to lay down the burden she has been carrying for years as she shares her memories with Nathan and Gemma. Their dialogue is realistic, and the author does a great job of contrasting the elderly Anna and youthful Gemma, by accurate physical descriptions and also by both characters' internal monologues. The ending is thought provoking, wistful, and triumphant at turns. There could have been many ways the story would come to a close, and Bridge brings everything together in a satisfying and real way. Anna is strong and maintains her sense of self throughout, right up to the ending, which will not be obvious until the book is almost over.  I spent some time thinking about Anna and her motivations; the author has created a masterpiece with this fictitious woman who will warm your heart and make you think about how your own life will be when you get old. BACK BEHIND ENEMY LINES is one of the most unique books I've read this year so far. I look forward to more by Chris Bridge.
Want your own copy? Click [easyazon_link asin="B00PQO85RK" locale="US" new_window="default" nofollow="default" tag="gimmethatbook-20″ add_to_cart="yes" cloaking="default" localization="yes" popups="yes"]here[/easyazon_link].
a Rafflecopter giveaway