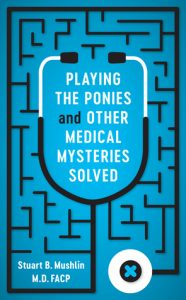 With over forty years of experience as a sought after diagnostician, Dr. Stuart Mushlin has cracked his share of medical mysteries, ones in which there are bigger gambles than playing the ponies at the track. Some of his patients show up with puzzling symptoms, calling for savvy medical detective work. Others seem to present cut-and-dry cases, but they turn out to be suffering from rare or serious conditions.

In Playing the Ponies and Other Medical Mysteries Solved, Dr. Mushlin shares some of the most intriguing cases he has encountered, revealing the twists and turns of each patient's diagnosis and treatment process. Along the way, he imparts the secrets to his success as a medical detective—not specialized high-tech equipment, but time-honored techniques like closely observing, touching, and listening to patients. He also candidly describes cases where he got things wrong, providing readers with honest insights into both the joys and dilemmas of his job.
Dr. Mushlin does not just treat diseases; he treats people. And this is not just a book about the ailments he diagnosed; it is also about the scared, uncertain, ailing individuals he helped in the process. Filled with real-life medical stories you'll have to read to believe, Playing the Ponies is both a suspenseful page-turner and a heartfelt reflection on a life spent caring for patients.
Thanks, Rutgers University Press, for this review copy!
This book should be enjoyed most by those in the medical field. It's a no-frills, straightforward collection of odd cases and the mental acuity needed to solve them. There is minimal gore, yet there is excellent description of the patient and how he is suffering. Each chapter is a new disease process, with the thorough history given, then the doctor's thought process. Most of the cases have an ending; there are a few where the patient is not seen again or fails to return for a recheck visit.
Some cases are difficult merely because the patient is not forthcoming with complete medical history, where others are truly "zebras" instead of horses (There is a famous statement that notes when you hear hoofbeats, think horses, not zebras). Each case can be read on its own, with no continuity between chapters – great for absorbing a single chapter before bed.
Mushlin notes that he was an English major before he went to medical school, something that has held him in great stead as he examines patients. He notes how important it is to listen to their words as well as the silence between the words. Imagine that – a doctor taking the time to actually listen to their patient's complaints! Mushlin's quiet and caring bedside manner shines through on every page, even when he is handling an especially recalcitrant patient he does his best to care for her.
All four of the reviews noted on the back of the book jacket are from medical doctors, and expound on the joy of reading this book. Most of the reviews online by lay people are positive, except for someone who calls the writing wooden, and feels the stories are too short. I feel the reviewer was not familiar with this type of book; namely, a kind that minimizes drama and emphasizes the medicine. Mushlin's style is plain and full of information. I understood everything he was saying, because I am a veterinary nurse and quite familiar with the workings of the body. In fact, I can say this is one of the few books I have read that gave so much detail on each patient before the diagnosis was discussed. I felt as if I were part of Dr Mushlin's team with the patient right in front of me.
The only part of the book that I have a complaint about is in the chapter Learning From The Patient. The author notes that they practiced studies in a dog lab, so as to learn about basic physiologic processes. He goes on to note that "…the human body is not the same as a dog's, humans are much more complex…". This frustrated me, as I feel that many canine and human diseases are shared, such as diabetes, cancer, Addison's, and neurologic issues. Each species is a complex being, similar yet different. I took his statement as demeaning to dogs and animals in general. Veterinary medicine is just as complex as human medicine, and requires the same mental and emotional effort to heal those patients. Perhaps if Dr Mushlin spent some time at an emergency veterinary hospital he would understand my feedback.
That concern was the only negative feedback I have for PLAYING THE PONIES – I found it a stimulating and fascinating read; educational without being taxing. Every patient should have a Dr Mushlin caring for him.
Want your own copy? You can pick it up [easyazon_link identifier="0813570557″ locale="US" nw="y" tag="gimmethatbook-20″]here[/easyazon_link].