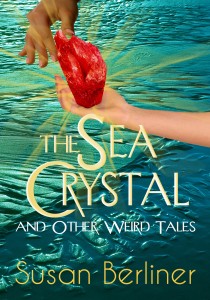 Welcome to Susan Berliner's world. It's a place where strange things–both good and bad–happen. Meet some of the inhabitants:

* Doreen. It's time for her wedding but where is everyone? (Doreen's Wedding)
* Neal. The face he sees in the mirror is no longer his own. (Mirror Image)
* Deb. All she does is recite four Latin words. How bad can that be? (The Rapunzel Effect)
* Ben. Everything he says sounds like gibberish. (Wordless)
* Mary. Her sweet dreams become nightmares and then the nightmares become real. (Dare to Dream)
* Kayla & Dan, Lisette & Omar. Two vacationing couples, one white and one black, form a bizarrely close relationship. (The Sea Crystal)
* Alicia. She waters office plants for a living. It's a stress-free job, right? (The Plant Whisperer)
* Isabel. The man in a red sports car looks exactly like her long-lost husband. (Nathan's Return)
In this weird world, you'll encounter a variety of genres from thriller and horror to fairy tale and humor. Enjoy your visit!
Thanks to the author for gifting me this book for review!
Once I started reading these stories, I could not put my Kindle down. Short stories are always good, because you can read one and pick up again with a brand new story. However, once you start reading anything written by Ms Berliner, you had better clear your calendar. Her characters are haunting, memorable, and real. Despite the horror/thriller undertones in some of the stories, each character seems authentic.
As I read, I kept thinking of the Twilight Zone, with offbeat stories that started out normal, but always had some strangely plausible but unsettling ending.  THE SEA CRYSTAL is just like that. Normal people: a bride, an office worker, couples on vacation — what could be so strange about that?
You are in for a real treat. It takes a special talent to be able to create a scene in a few pages, from beginning to end, and this is where the author excels. As soon as the story begins, you are thrust into a little microcosm where things look ordinary…mundane, even.
But then…plants start talking, or someone disappears, or someone who is there turns out that they were never even there in the first place!
Much like a riddle or a brain teaser, these tales will get under your skin and not be shaken off that easily. One of the stories in particular, DOREEN'S WEDDING, left me with a queer little ache in my heart. Entirely plausible, simply done, and utterly gripping. I challenge anyone to read that and not be moved.
Berliner is a talented weaver of stories, and I guarantee you will love this book. Click [easyazon_link identifier="0983940150″ locale="US" nw="y" tag="gimmethatbook-20″]here[/easyazon_link] and pick up your copy RIGHT NOW.