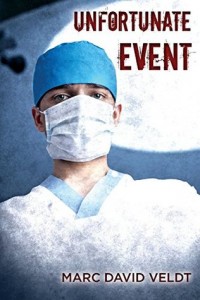 A man's life can easily be shattered by a single unfortunate event.
After a patient dies following a routine operation, hospital administration needs a scapegoat. They find their victim in Dr. Jack Andrews, a brilliant anesthesiologist. Andrews's actions had no bearing on the patient's death, but he finds himself thrown to the legal wolves by his so-called colleagues as they scramble to protect themselves.

Facing a relentless, amoral prosecutor and allied with a malpractice insurance company acting in its own best interests, Andrews loses everything-his money and his standing in the medical community. His money-obsessed wife divorces him, taking with her their two children.

Jack's opponents think they've won. They think they're the most ruthless players in the game of life. But Jack's about to introduce them to the game's next level. He's got nothing left to lose, and a mind trained to make life-or-death decisions. People start to die-people who wronged Jack Andrews.
A tense thriller, " Unfortunate Event" explores the dark side of operating room culture, the cutthroat world of malpractice law, and the mind of one man as his world crumbles around him.
Word Slinger Publicity gave me a copy of this book in exchange for an unbiased review.
The one thing that drew me to this book was that the author is an anesthesiologist, and I was looking forward to accurate and copious medical detail.
I wasn't disappointed! I was also pleasantly surprised by the quality of the writing and how thrilling the plot was. Jack Andrews is a very sympathetic character that undergoes a sweeping personality change as a result of his verbally abusive and emotionally absent wife, job stress, and accidental death of a patient that was not his fault.
The story line is set up well as we see a patient suddenly go downhill after a routine surgery. The medicine was good, but an unknown combination of events caused the patient to spiral downwards and eventually die. The details showing doctors scrambling to lay blame and divert attention away from themselves is chilling and unfortunate if truly accurate.
Andrews is a magnet for almost every cliché surrounding the medical profession: he's married to a money grubbing woman who teaches their children to view their father as a giant wallet, his coworkers are a coterie of doctors that eschew their personal life to chase the almighty dollar, and his malpractice lawyer is a drunken has-been who only cares about getting the case settled quickly so he can go back to his bottle.
Author Marc David Veldt makes this situation sound plausible. Some of his most cringeworthy bits of dialogue are from the mouth of Kate, the doctor's wife. In one chapter, she is lambasting her husband for having to miss work during his malpractice trial. She asks:
"How long will the trial take?"
"About 3 or 4 weeks."
"You can't be expected to miss that much work. We have no income if you aren't working. You'll just have to make the lawyers attend the trial. There's no reason you have to be there all the time."
"Gee, honey, I think it's expected that I show up for my own trial."
"It isn't fair. Why should the children and I have to suffer because some guy had a poor result?"
"Dying is a very poor result."
"You just aren't tough enough, are you? I can't believe I'm supposed to raise children with someone who isn't strong and has all these problems."
Every time Kate spoke it was pretty much along the same lines, and I hoped to read later on that he had injected her with some potassium chloride or something.
Eventually Dr Andrews gives in to let the machine chew him up and spit him out. He loses everything he cares about, and the only thing left for him is to seek justice….his own way. The brilliant, organized mind of an anesthesiologist turns to nefarious deeds, and this is where the story takes a darker turn. He plots the murder of everyone who has wronged him in a cool, calculated plot that did stretch credulity a bit, but for the most part it was easy to digest.  Even as he plots the demise of his enemies, he still remains a sympathetic character. I stayed up long past my bedtime to see what would happen to the good doctor!
Andrews' character is well defined, whereas some of the others were not. There was an equal amount of dialogue and description to keep things constantly moving forward in a compelling way, and there was suspense as well towards the end of the book when the police started putting the pieces together.
UNFORTUNATE EVENT is a hidden gem of a book and easily readable, no medical background needed. The events put forth in the book really made me think about the world of malpractice law and how vulnerable doctors may be in this litigious society. The author writes in such a way as to exploit the desire for money, and this causes the reader to realize the pressure on doctors and how this affects each decision they make.
I'd love to see more of Veldt's work and I hope he continues to write. Want your own copy? You can pick it up [easyazon_link identifier="1502913402″ locale="US" nw="y" tag="gimmethatbook-20″]here[/easyazon_link].