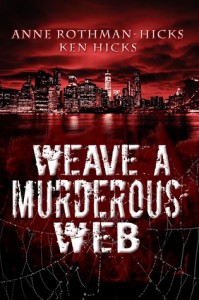 No good deed goes unpunished. When Jane Larson—a hot-shot litigator for a large firm in New York City—helps out a friend, she is sucked into the unfamiliar world of divorce and child support.
Jane's discovery of the deadbeat dad's hidden assets soon unravels a web of lies, drugs, and murder that keeps getting more dangerous.
Soon, Jane is involved in a high stakes race to recover a missing suitcase of cash and catch the murderer before she becomes the next victim.
Many thanks to the authors for gifting me this book for review!
This is the second book in the Jane Larson series and it's just as fast, furious, and fun as the first one. Jane is still as stubborn as ever. Her client Gail, who seems to be adept at dodging the truth, is seeking child support from her ex husband.  Jane's friend Francine paints a sob story about Gail needing help, and as always, against her better judgement, Jane takes the case. It's not a quick open and shut job, however. Jane struggles to find the truth, gets shot at, and meets a handsome stranger.
The authors have done well with Jane Larson: a smart, sarcastic female character who doesn't let a little danger cramp her style. She argues with the police assigned to the murder, and gets tangled up in the web of a double talking reporter who always seems to be one step ahead of Jane.
This book's strength lies in its character development. There are many, but they all have very distinct personalities and move in and out of the story, advancing the plot well. The identity of the killer is not easy to figure out, as the authors utilize many red herrings and lead the reader down many paths, only to have those paths double back and head in another direction.
My favorite character is Officer Steinberg; a roly poly man who excels at appearing dumber than he truly is. I could almost see him in the room next to me, picking crumbs off his wrinkled shirt.
MURDEROUS WEB is a classic whodunit with classic New York City characters. There is a great deal of action going on: bribery, arson, drugs and blackmail are just a few of all the evils that befall the aforementioned characters. This was a fairly quick read that started out a bit slow, but once I got past the first few chapters the plot took off and it was a wonderful ride.
I'm looking forward to see what happens next to Jane! Want your own copy? You can pick it up [easyazon_link identifier="1680462520″ locale="US" nw="y" tag="gimmethatbook-20″]here[/easyazon_link].