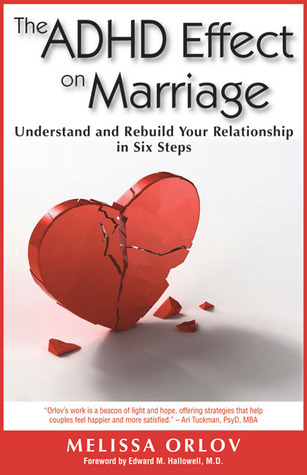 Subtitled "Understand and rebuild your relationship in six steps", this book is mainly geared towards those who are experiencing trouble with their ADD/ADHD mate. Both people in the relationship will see themselves portrayed authentically, with explanations of WHY they are feeling those emotions. The first few chapters explain ADHD–what it is, how the brain is affected, how it is diagnosed, and the insidious ways it can creep into your relationship/marriage and cause trouble. Orlov quotes from, and suggests reading, The Dance of Anger by Harriet G Lerner as a supplement to this book. She also sprinkles the pages with lots of stories and examples from real life men and women working to save their relationship. It's easy to sense the frustration these people have with ADHD serving as the third wheel in their marriage, and some of the stories are quite depressing.
The second part of the book is the rebuilding part, as Orlov outlines her six steps for fixing what has gone awry. She goes out of her way to explain that it's not the ADHD causing the person to be "broken", but a lack of understanding how it affects the brain and how ADHD'ers see the world differently.
The six steps are: cultivating empathy, addressing obstacle emotions, getting treatment for BOTH parties (as the non ADHD'er may experience depression, anger or frustration and become resentful and/or ill), improving communication, setting boundaries, and finally, reigniting romance and having fun. As someone who truly believed that ADHD was just a convenient diagnosis for little boys with ants in their pants, I can say I was literally blown away by this book. My whole way of thinking (these people just needed to focus more, be more organized, stop daydreaming, get discipline) could not have been more wrong. ADHD'ers have heard since they were young that they were "not good enough", they were "underachieving", they could be "so much more if you just focused better", and they feel unloved, abandoned, and frustrated.
I am a very organized person by nature, and dealing with a man with ADHD would be a challenge, for sure. The first step is understanding that MY way is not always the RIGHT way, and ADHD'ers need to do what works best for them. Medication is a great help, but so is communication and coping strategies. Knowing your enemy is the first step to defeating him.
Included with the book are worksheets, tools and resources that can be further utilized. Both people will come away knowing their spouse better, and themselves a little better as well.
This was the first book I read about adult ADD/ADHD, and I learned a great deal. On Goodreads, this book got mixed reviews, and most reviewers suggested reading Is It You, Me, or Adult ADD? by Gina Pera as a better source of information and assistance. I'll be reviewing that in a future post, as I'm currently working through that now. The ADD Effect On Marriage is a good, if simple, book to read to gain understanding of adult ADHD. The advice is pretty sound, and if nothing else, you will see yourself in the anecdotes of those who have experienced a rocky road in their relationship. You will know that you are not alone in this.
[easyazon_link asin="1886941971″ locale="US" new_window="default" nofollow="default" tag="gimmethatbook-20″ add_to_cart="default" cloaking="default" localization="yes" popups="yes"]Know someone with adult ADD? Interested in learning more, even if there is no ADD in your life? Click here to get a copy.[/easyazon_link]